Help us improve our new site!
SEA LIFE London Aquarium
Guiden uppdaterades:
Precis bredvid London Eye ligger SEA LIFE London Aquarium som har en av Europas största samlingar av marint liv från hela världen med bland annat 500 arter, 14 temaområden och två miljoner liter vatten. Utställningen innefattar favoriter som sjöhästar, bläckfisk, zebrahajar och clownfiskar. Detta är en interaktiv utställning där du kan mata stingrockor, se hajar bli matade, se dykutställningar och gå "under vattnet" i en glastunnel.
Användbar information
Adress: County Hall, Westminster Bridge Road, London
Öppettider: Dagligen 10:00-19:00 (förutom juldagen), sista insläpp 18.00
Hemsida: www2.visitsealife.com/london
Kollektivtrafik: Waterloo station ligger cirka 5 minuter bort
Telefon: +44 871 663 1678
Ladda ner guide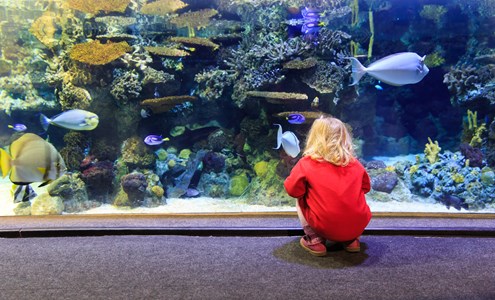 Try our
NEW

site!
Our
NEW

website is now available, give it a try! Let's Go There!
Our
NEW

website is now available, give it a try!
Book

On the new ArrivalGuides you can book your next flight or hotel for the best price.

Plan

Collaborate with your friends or invite an agent to plan the best trip ever! All in one place.

Explore

578 and counting updated guides from the most popular destination all over the world.