Help us improve our new site!
Naturhistoriska museet
Guiden uppdaterades:
Naturhistoriska museet, med sina hundratals fantastiska utställningar över naturens under, är en av Londons vackraste byggnader och landmärken. Höjdpunkter här innefattar det populära dinosauriegalleriet, blåvals-modellen, Cocoon-centret och andra specialevent och debatter i Darwin Centrets högteknologiska Attenborough Studio, där du har chans till att träffa forskare.
Användbar information
Adress: Cromwell Road, London
Öppettider: Dagligen 10.00-17.50
Biljetter: Gratis (vissa tillfälliga utställningar har inträde)
Hemsida: www.nhm.ac.uk
Kollektivtrafik: South Kensington tunnelbanestation ligger närmst
Telefon: +44 20 7942 5000
Ladda ner guide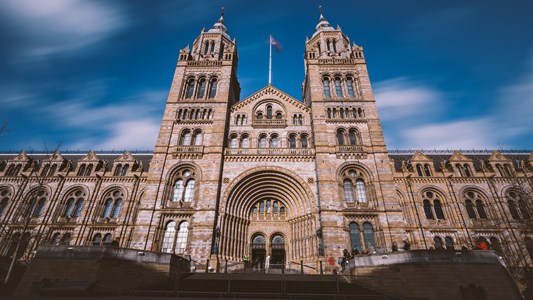 Try our
NEW

site!
Our
NEW

website is now available, give it a try! Let's Go There!
Our
NEW

website is now available, give it a try!
Book

On the new ArrivalGuides you can book your next flight or hotel for the best price.

Plan

Collaborate with your friends or invite an agent to plan the best trip ever! All in one place.

Explore

578 and counting updated guides from the most popular destination all over the world.