Help us improve our new site!
Wilanów
Przewodnik został zaktualizowany:
Pałac w Wilanowie to barokowa perełka Warszawy. Poczuj się jak król Jan III Sobieski – pogromca Turków spod Wiednia, który mieszkał tu razem ze swoją ukochaną Marysieńką. Przespaceruj się po parku i wnętrzach pałacu, obejrzyj galerię portretu i posłuchaj opowieści o wielkich miłościach. Zabytek razem z ogrodem zachował niezmienioną formę mimo zaborów, wojen i okupacji. Obowiązkowy punkt wizyty w Warszawie. Zimą ogród migocze tysiącami lampek zamieniając się w Królewski Ogród Światła.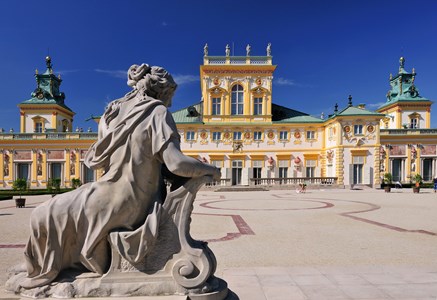 Try our
NEW

site!
Our
NEW

website is now available, give it a try! Let's Go There!
Our
NEW

website is now available, give it a try!
Book

On the new ArrivalGuides you can book your next flight or hotel for the best price.

Plan

Collaborate with your friends or invite an agent to plan the best trip ever! All in one place.

Explore

578 and counting updated guides from the most popular destination all over the world.