Help us improve our new site!
Łazienki Królewskie
Przewodnik został zaktualizowany:
Rozległy park otaczający letnią rezydencję ostatniego króla Polski – Stanisława Augusta Poniatowskiego to ulubione miejsce warszawiaków na długie spacery. Znajdują się tu oranżerie, amfiteatr, a nawet ogród chiński. Atrakcją parku są jego stali mieszkańcy - wiewiórki i pawie. Warto zwiedzić klasycystyczny Pałac na Wyspie, którego wnętrza zachwycają różnorodnym wystrojem i skrywają galerię obrazów.
Park słynie z Koncertów Chopinowskich, które odbywają się latem w każdą niedzielę o godz. 12.00 i 16.00. Przyjdź pod pomnik Chopina, usiądź na trawie i ciesz się muzyką.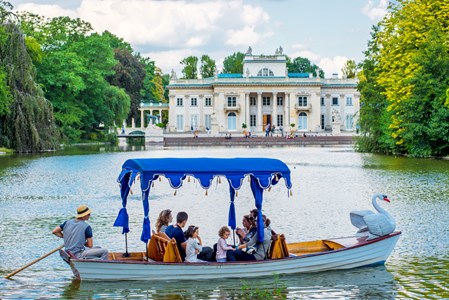 Try our
NEW

site!
Our
NEW

website is now available, give it a try! Let's Go There!
Our
NEW

website is now available, give it a try!
Book

On the new ArrivalGuides you can book your next flight or hotel for the best price.

Plan

Collaborate with your friends or invite an agent to plan the best trip ever! All in one place.

Explore

578 and counting updated guides from the most popular destination all over the world.