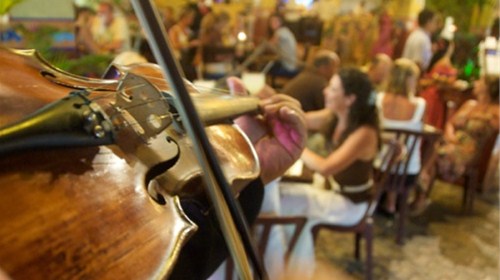 The Mexican Cuisine is known for its varied flavours and the great variety of spices and ingredients that are used, most of which are native to the country. Many of the recipes are based on a tradition that date thousands of years back and were passed on from generation to generation. It is for that reason that the UNESCO declared the Mexican Gastronomy an intangible Cultural Heritage in 2010.

Food plays an important role in the Mexican society and every meal is a feast. The preparation is a ritual by itself and it is not uncommon that half a day is spent in the kitchen to create these exquisite dishes.

The Riviera Maya is a hot spot for the up and coming restaurants, the latest foodie trends and new cuisine. Playa del Carmen, the main city of the destination is a vibrant district with its own style and flavor. Serving as a hub for Riviera Maya's nightlife, shopping and dining scene, Playa del Carmen is a cosmopolitan city with its own style and flavor. For a more low-key atmosphere, Tulum, known primarily as the site of ancient Mayan ruins, serves as an off-the-beaten path district for authentic local culinary offerings. With an array of fine dining options, experiential culinary lessons and opportunities to explore the art of wine and spirit tastings visitors are sure to find something to satisfy their palate.
La Sirena
La Sirena Cevichería and Bar is a great place to eat fresh seafood and excellent ceviches in a relaxed atmosphere.
Xulam
Delicious Maya & Mexican food, served in a place surounded by nature.
DiVino
Divino by Glassbar offers delicious Italian food and an extensive Italian wine list.
Sur
Argentinean Steakhouse and grill serving only the best cuts.
Ajua Maya
Serves Lobster, Mexican and Maya Food. Service is excellent with fun waiters carrying the trays on their heads.
The Blue Lobster
Tasty Lobster and excellent service.

Alux
Prehispanic and Mexican food served in an amazingly beautiful underground cenote.
Posada Margherita
Delicious Italian Food, try the homemade pasta with lobster!!
El Tabano
Traditional Mexican food prepared in an innovative way. A really beautiful place with excellent service.
La Nave
Traditional Italian food in the centre of town and very decently priced.
Almirante Pech
Almirante Pech located on the famous and busy 5th Avenue is the recommendation of the moment,
his contemporary fusion menu méxican &Yucatecan food offer you a unique experience in the new call fifth.
His story honoring the great Admiral Pech captivate you until the last of your senses.
A unique sound with live DJs create a unique musical atmosphere.
Definitely a place you fall in love with your interior and you'd never get out.
The Admiral and his crew invite you to live this great experience.