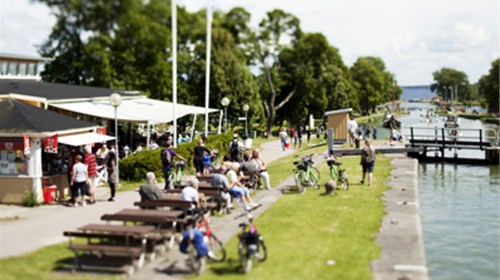 Linköping is Sweden's fifth largest city and growing, both geographically and in population. It is home to 150 000 people. We have a wealth of leisure activities and experiences for all ages. With a rich offering of art, theater, history, concerts, markets, festivals and sporting events, Linköping is the place to be.

Berg Locks / the Göta Canal
Berg's Locks are the Göta Canal's major sight and attract thousands of spectators every year. The area contains restaurants, cafés, minigolf, youth hostel, cycle rental, bathing place in Roxen, etc. The passenger ship M/S WASA LEJON and M/S CERES makes daily trips on the Göta Canal from here.

Open-air Museum of Old Linköping and Valla Gård
Experience the Swedish small-town life a century ago! Open-air museum of Old Linköping offers relaxation and exciting activities all year round. Here is an exciting mixture of both old and new, culture and creativity. Museums, exhibitions, family activities, craft shops, cafes and restaurants, gardens, animals and nature.

Linköpings domkyrka (Linköping Cathedral)
Linköping's cathedral is Sweden's best preserved medieval cathedral. There is much to discover here, the Gothic blind arcades with their remarkable stone figures, the glass sculpture Golgotha and Maria, which spreads its wonderful cloak of flowers out over us from one of the windows. Linköping's cathedral is 110 metres long and the tower is 107 metres high.

Flygvapenmuseum (Air force Museum)
Wow! That's what everyone who comes here say when seeing the planes hanging from the ceilings and elevated on pedestals. Maybe it's a Banana, a Vampire or a Draken. However, you'll find the most special plane in the basement. It's the wreck of the DC-3 shot down in the 1950s and rediscovered at the bottom of the sea in 2003. In the Flight Lab, you can try being a pilot. You'll have an exciting day with lots of fun for the whole family.
Fenomenmagasinet- Science Center
Here, you get a chance to understand everyday phenomena such as optics, the human body and electricity. Experiment by yourself and maybe you will see that what seems complicated is quite simple. There are different experiments in two barns: one rectangular and one shaped like an octagon. On the top floor of the rectangular barn you also find live animals such as lizards, snakes and other reptiles.

Kinda Canal
The lake system and the meandering channel route begins in thescenic Kinda, continues through fifteen manual locks to the center of Linköping, out into Lake Roxen. Restaurants, cafes, accommodationand attractions are located along the canal. The locks are very nice venues. Visit Kinda channel, with private boat / canoe or by passengerferry M/S Kind.

Trädgårdsföreningen (The garden Society)
Welcome to the Linköping Horticultural Society! A wonderful oasis centrally located in the city, where you can stroll in the beautiful environment, take a guided tour, have a picnic, buy plants, play, eat, have coffee and much more. Entrance Drottninggatan/ Klostergatan/Sandbäcksgatan/ Lasarettsgatan eller Djurgårdsgatan.

Linköpings slott- och domkyrkomuseum (Linköping Castle and Cathedral museum)
An exciting medieval museum in the heart of central Linköping. See the hidden bishop's dating tower from the 13th century and the Cathedral's unique treasures. The museum describes the development of the castle and the cathedral from the 1100s up to the Renaissance.

Östergötlands museum (Östergötland County Museum)
Temporary exhibitions, cultural history exhibitions and a unique art collection. As well as a library, archives, fact shelf, conservation studio and archaeological expertise. Shop with unusual souvenirs, design items and books. Restaurang Hagdahls Kök offers food and coffee, also on the roof terrace during the summer.
Datamuseet It-ceum (Computer museum)
IT-ceum, the Swedish computer museum, is located in new premises in Östergötland County Museum in Linköping. It shows Swedish computer history from a number of angles. Naturally it tells the story surrounding the foundation of a Swedish computer industry in the 1950s, and visitors can also learn more about today's demo scene, get more information about Carl Gustaf Rossby, the father of modern meteorology, or quite simply find out how the different parts of a computer work.
Museihuset (Motorboat and toy car museum)
Scandinavia's largest motorboat and toy car museum. The boat hall contains unique motor-powered sports and pleasure boats, and the miniature car hall contains cars for those interested in cars and miniature cars. It includes a presentation of all aspect of the car's development in model format.
Wildlife
Linköping is also surrounded by beautiful country, like the fantastic Oak Woodland—Northern Europe's biggest continuous stretch of oak forest—just a few kilometers from downtown Linköping. This is also the municipality in Sweden with the most canal locks. Boating, walking or bicycling along the Göta Canal and Kinda Canal is an experience you won't soon forget.
More attractions
Nearby Linköping, 1 hour by car, you´ll find Kolmården Wildlife Park - the largest Wildlife Park in Scandinavia. Here you meet 750 wild animals from all the jungles, savannahs and osceans of the world.
South of Linköping in Vimmerby, in Småland, you´ll find a very special place. Astrid Lindgrens Värld - where fairy-tales comes to life. This is a theatre and theme park and everything that happens here are entirely based on the stories written by Astrid Lindgren.
If you want visit Stockholm, the Capital of Scandinavia, its very close to Linköping - just 2 hours by car.