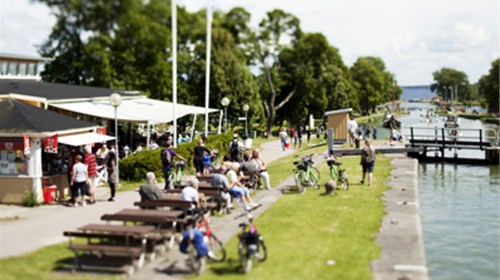 Linköping is Sweden's fifth largest city and growing, both geographically and in population. It is home to 145 000 people. We have a wealth of leisure activities and experiences for all ages. With a rich offering of art, theater, history, concerts, markets, festivals and sporting events, Linköping is the place to be.
Open-air museum of Old Linköping
Experience the Swedish small-town life a century ago! Open-air museum of Old Linköping offers relaxation and exciting activities all year round. Here is an exciting mixture of both old and new, culture and creativity. Museums, exhibitions, family activities, craft shops, cafes and restaurants, gardens, animals and nature.


Östergötlands museum (Östergötland County Museum)
Temporary exhibitions, cultural history exhibitions and a unique art collection. As well as a library, archives, fact shelf, conservation studio and archaeological expertise. Shop with unusual souvenirs, design items and books. Restaurang Hagdahls Kök offers food and coffee, also on the roof terrace during the summer.

Berg's Locks / the Göta Canal
Berg's Locks are the Göta Canal's major sight and attract thousands of spectators every year. The area contains restaurants, cafés, minigolf, youth hostel, cycle rental, bathing place in Roxen, etc. The passenger ship M/S WASA LEJON and M/S CERES makes daily trips on the Göta Canal from here.

Trädgårdsföreningen (The garden Society)
Welcome to the Linköping Horticultural Society! A wonderful oasis centrally located in the city, where you can stroll in the beautiful environment, take a guided tour, have a picnic, buy plants, play, eat, have coffee and much more. Entrance Drottninggatan/ Klostergatan/Sandbäcksgatan/ Lasarettsgatan eller Djurgårdsgatan.

Linköpings domkyrka (Linköping Cathedral)
Linköping's cathedral is Sweden's best preserved medieval cathedral. There is much to discover here, the Gothic blind arcades with their remarkable stone figures, the glass sculpture Golgotha and Maria, which spreads its wonderful cloak of flowers out over us from one of the windows. Linköping's cathedral is 110 metres long and the tower is 107 metres high.
Datamuseet It-ceum (Computer museum)
IT-ceum, the Swedish computer museum, is located in new premises in Östergötland County Museum in Linköping. It shows Swedish computer history from a number of angles. Naturally it tells the story surrounding the foundation of a Swedish computer industry in the 1950s, and visitors can also learn more about today's demo scene, get more information about Carl Gustaf Rossby, the father of modern meteorology, or quite simply find out how the different parts of a computer work.

Linköpings slott- och domkyrkomuseum (Linköping Castle and Cathedral museum)
An exciting medieval museum in the heart of central Linköping. See the hidden bishop's dating tower from the 13th century and the Cathedral's unique treasures. The museum describes the development of the castle and the cathedral from the 1100s up to the Renaissance.

Museihuset (Motorboat and toy car museum)
Scandinavia's largest motorboat and toy car museum. The boat hall contains unique motor-powered sports and pleasure boats, and the miniature car hall contains cars for those interested in cars and miniature cars. It includes a presentation of all aspect of the car's development in model format.