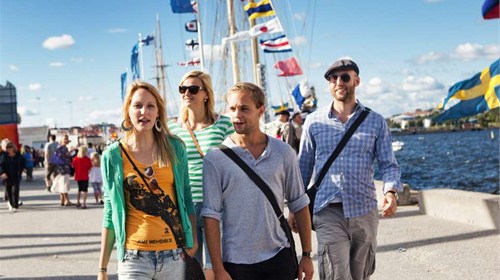 In the centre of Karlskrona – at the heart of the archipelago, you will find three shopping arcades, designer shops, delicatessens, art galleries and market stalls. Many shops are to be found along and around the two pedestrian streets of Ronnebygatan and Borgmästaregatan. Don´t forget to visit the side streets, here you will find several unique shops, with "that little extra". There are over 200 shops and the assortment is varied, with everything from well-known brands and chains to unique, local shops offering a hand-picked selection of goods. Many restaurants and cafés are clustered around Stortorget and the pedestrian streets, but naturally there are also waterside eateries. Enjoy your meal or a refreshing drink with an ocean backdrop.
City Centre
Affärshuset Kronan (mall) - Karlskrona's own fashion house situated in the middle of town on Ronnebygatan. A broad spectrum of clothes shops are housed here, as well as outlets for jewellery, cosmetics, health foods, toys, sports equipment and a good deal more.

Wachtmeister Galleria (mall) - a modern shopping mall and meeting place in Blekinge county. Here you will find 30 or more well stocked shops.

Riksgallerian (mall) - Riksgallerian is the place for cosy, unique shops, but also for chains, such as Polarn & Pyret.
Outside The Centre
There are further shopping facilities outside the centre. Two major commercial
districts, Amiralen and Slottsbacken, offer shops for the entire family. Restaurants, chemist's shops, furniture stores, home furnishing, electronics chains and banks are also to be found here.