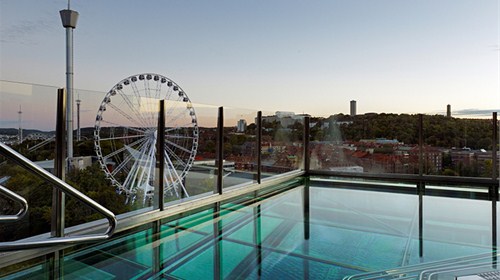 Indulge in a visit to a spa when in Gothenburg. There's nothing better than to leave the stress at the door and get pampered for a bit. If you wish to combine your stay with fitness, there are many different facilities with various kinds of exercise. Many hotels have their own gym or are work in co-operation with a nearby gym.

Read more at: www.goteborg.com/en/do
Hagabadet Spa
The idea behind the spa is that a person who wants to feel really good needs to create a balance between work and rest, exercise and soothing treatments as well as good energising food.
Hagabadet Spa doesn't just offer training and treatment facilities, it's also a place for relaxation, work and meetings. Just like in the ancient baths in Rome, simply being here generates both stimulation for the soul and relaxation for the body. There are four beautiful pools in Art Nouveau style.

Skönhetsfabriken
Skönhetsfabriken offers the best and latest in health and beauty in a holistic concept that involves workouts, treatments, relaxation and our salon.

In Skönhetsfabriken's facilities you'll get effective, personal training with a focus on functional training and mental relaxation. Our therapists give you result-oriented skin and body treatments. After a great massage, you can settle down in the lungs of the factory, our relaxation area. In the salon, our skilled hairstylists and make-up artists bring out your inner beauty. Skönhetsfabriken offers you a total experience that stays with you a long
Arken Hotel & Art Garden Spa
Close to both the sea and the city. Here you will have access to exclusive and delightful experiences in a peaceful world. In a 1500 square meters spa which seduces and revives energy. It is inspired by the study of the seasonal effect and the five elements. Enjoy swimming, massage, sauna and restful oases both indoors and outdoors.