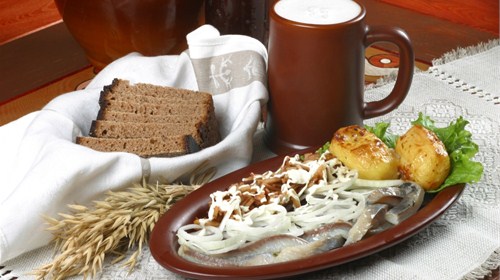 The city has many restaurants, cafes and bars that offer a wide variety of dishes, ranging from Lithuanian cuisine to gourmet and exotic food to suit every taste and budget.

It is highly recommended that while in Kaunas, to try the great potato dumplings – the Cepelinai (Zeppelin), the cold beetroot soup (Šaltibarščiai) and the "live" (non-pasteurised) Lithuanian honey beer.

Wholesome simple ingredients are the key to Lithuanian cooking. Traditionally cold winters and harsh times are reflected in the "Hunter's" menu we see today – there aren't many parts of an animal that don't go into the Lithuanian pot. Meat is heartily served with staple vegetables such as potato and cabbage.

If you need an advice where to eat in Kaunas, please visit or contact Kaunas Tourism Information Centre (Laisvės al. 36, tel. +370 37 323 436) qualified specialists will give you the best advice.
55°
Set in the atmospheric basement of the stylish Kaunas Hotel, this restaurant oozes romance. It's a real treat!
Bernelių Užeiga
Traditional cuisine restaurant located in the Old Town. Make sure you try the soup in the bowl made from bread.
Medziotoju Uzeiga
A recognised, local restaurant serving such delights as Venison in a Cherry Sauce.
Ramzis II
An Egyptian restaurant in the centre of the city, offering a variety of staple Middle Eastern delicacies.
Senieji Rusiai
A terrace to dine at while enjoying views of the Old Town or a medieval brick vaulted cellar inside, complete with frescoed walls by candle light.
Avilys
Legendary restaurant - brewery "Avilys", situated in Kaunas Old Town in an ancient vault.

Svarstyklės
The restaurant's "Svarstykles" chefs offer delicious European dishes.
Here chefs from Beijing to produce for you according to the Beijing City Chinese recipes for special dishes.
Buon Giorno Taverna
The Italian cuisine located in the Old town.
Restaurant 1410
The stylish, spacious "1410" restaurant, located in "Žalgiris" arena.
Diverso
The restaurant Diverso offers European cuisine with grill elements. The restaurant is perfect for business lunches or dinners.
Restaurant offers cooking show with a degustation of local dishes with a local drinks.
Gan Bei city
Chinese cuisine and Japanese sushi-bar, with a stylish design.
Gurmė
Restaurant is located in the authentic, 500-years old wine cellar.
La Bodega Del Toro
Spanish cuisine and a big variety of wines.
La Rouge
Le Rouge Brasserie & Cafe. French restaurant, located in the heart of Old Town.
Portofino
Portofino is all about Italy - food, wines, music – even interior narrates visitors about this special and magical place in the world.
Grizzly Grill & Salad
Grilled food, stakes, salad. Breakfast menu. Free WiFi internet access.
Magnus hotel restaurant
European cuisine, cosy and modern restaurant on the ground floor of the Magnus Hotel.

Piano Piano
Italian cuisine and home wines.
Flamenco Café & Vino
Great place for a summertime outdoor coffee as well as the great place in town of Spanish food.





Trattoria Piccola Italia
The stylish Italian restaurant radiating homely warmth located in the centre of Kaunas. Homemade pasta, Italian pizzas, salads, desserts and carefully selected wines from the best Italian wine regions.
Kultūra
Located in Kaunas picture gallery.
Monte Pacis
Restaurant Monte Pacis is headed by chef Darius Dabrovolskas, a bronze winner of Culinary olympics 2012. A la Carte menu, based on local and seasonal products, innovatively and tastefully combines the culinary heritages of different epoques and cultures that once existed and still exist in Pažaislis. The wine list includes authentic wine made by the monks.

Two Monte Pacis indoor hallsare perfectly fit for different types of events, conferences or concerts.
Talutti
Fresh and tasty. Talutti invites you to taste and get to know dishes from all over the world.
Režisierius
Asian restaurant located in the Old Town. A special and unique place with luxury atmosphere and architecture.
Galeria Urbana
Mediterranean restaurant located in the Old Town.
Pas Stanley
European cuisine.

Our premier goal is hundred percent guests satisfaction, and this is not only the words, but a fact which all our acting and activities are concerned around!
Raw Inn
Raw Inn - is passionate about supporting you in embracing a new level of body and mind health. Our mission is to share sophisticated, mouth - watering tastes of healthy raw vegan living.