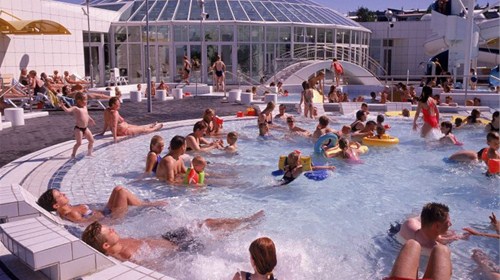 Reykjavík's compact city centre is a friendly and colourful network of small streets with historic buildings, a wide selection of boutiques, designer shops, cafés and restaurants serving attractive dishes made of the freshest of ingredients. Find the perfect souvenir, enjoy a gourmet meal or lose track of time in a modern gallery. See below for the "Top 10" things to do.


1. Stroll around the city centre, admire the colourful old houses and enjoy the relaxing atmosphere by Tjörnin Lake.

2. Soak your stress away in one of the city's relaxing thermal pools.

3. Climb up Hallgrímskirkja Church tower for a panoramic view of the city.

4. Indulge your interest in Iceland's fascinating cultural heritage or cutting edge art at one of the city's many museums and galleries.

5. Shop for some quirky Icelandic designed art, clothing or jewellery.

6. Take a day-tour and view the magnificent landscape surrounding the city.

7. Test your stamina with a night on the town "Reykjavík style".

8. Visit The Pearl – an otherworldly creation with a viewing platform and a revolving restaurant on top of hot water storage tanks.

9. Give your taste buds a real treat by dining at one of Reykjavík's many excellent seafood restaurants.

10. Be amazed by the sight of whales and dolphins on a whale-watching tour.


If you have more time on your hands we encourage you to go beyond the trendy "101" postcode of Reykjavík city centre and view some of the intriguing sites that the Reykjavík Capital Area offers, including Viking and elf territory, museums displaying both nature's wonders and cultural icons, some excellent new thermal pool facilities and top bird watching sites.