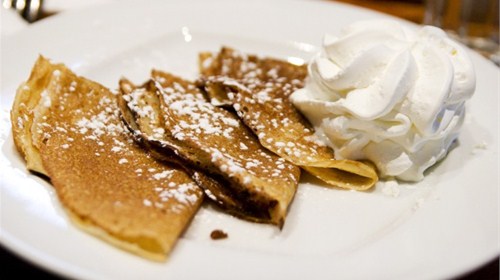 Reykjavík boasts a great café culture, with residents regularly meeting up with friends and family for coffee, cake and conversation and simple food at affordable prices. An Icelandic hot chocolate is a great way to warm those cold bones after a day spent exploring the city and many also host live music and entertainment.
Bar & Cafe Uppsalir
Stylish bar and café – the perfect place for a relaxing coffee or drink by the fireplace, serves light courses, Icelandic dishes and delicious cakes.
Cafe Oliver
Reopened in 2005 after a major refurbishment. Café Oliver is famous for its excellent brunch, which is served every day of the week. In the evening, the place turns into a nightclub.
Kaffitar
Two of Reykjavik's most popular coffee bars, serving some of the best coffee in the country.
Mokka Kaffi
For a 1950s coffee-house atmosphere, head to Mokka, Reykjavik's oldest coffee bar, which has not changed since opening in 1957.
B-5
Trendy lounge-style bistro-bar with a Scandinavian focus on the menu.

Enormous Phillipe Stark lampshades and giant leather sofas, light meals and extensive drinks list.
Prikid
A 50s-style diner during the day and a nightclub on weekends.

Used to be the oldest continuously running traditional coffeehouse on the street, but caters now to a younger clientele.
Lifandi Markadur
A modern, health-conscious restaurant and wholefood shop which offers a wide range of hot or cold food to eat in or take-out.

Today's special (most days suitable for vegetarians), fish and chicken dishes, salad bar (suitable for raw living eaters), hot soup and a selection of cold dishes such as tortillas, sandwiches and pies. Also coffee and cakes. No white flour, white sugar, MSG or yeast is used and spelt is used in the bread and cakes.
Fjalakötturinn
Fjalakötturinn is situated in the heart of Reykjavik and the food inspires all of the senses with its chic ambiance, superb, gastro style restaurant and gracious service.
Borg Restaurant
Borg Restaurant is located on the ground floor of the monumental Hotel Borg in Reykjavik, Iceland – in the heart of the City.

This unique Borg Restaurant is the place for people across all hours, open for breakfast, lunch, afternoon drinks, dinners and the famous weekend brunch. Borg Restaurant is a bustling and breathtaking space in one of Iceland´s landmark buildings.