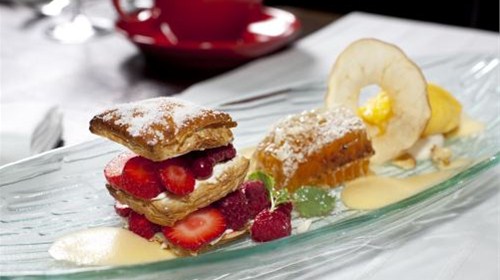 Being located in Northern Europe, Estonian cuisine is based on fresh and natural ingredients that vary according to the season.

Whether you want to have a cosy dinner with your family or meeting your friends for some drinks in a modern lounge bar, there are countless choices – from medieval to modern, from traditional Estonian kitchen to exotic international.

With cosy cafés on nearly every corner, Tallinn is indeed a paradise for coffee lovers. Many attractive cafés are located in the city centre. In summertime tables and chairs are set up outside the cafés, and sitting at backyards or terraces is a great pastime and holiday activity in itself.

Tallinn has more than 100 restaurants, over 300 cafes & bars.
More Tips for Wining & Dining
Flavours of Estonia
For mouth-watering pictures and restaurant news visit Flavours of Estonia web.