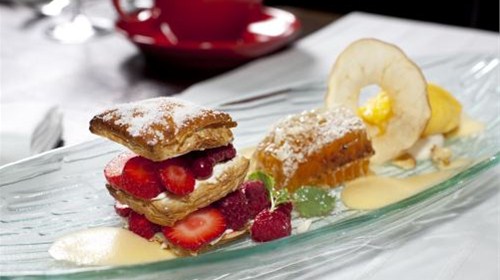 Being located in Northern Europe, Estonian cuisine is based on fresh and natural ingredients that vary according to the season.

Whether you want to have a cosy dinner with your family or meeting your friends for some drinks in a modern lounge bar, there are countless choices – from medieval to modern, from traditional Estonian kitchen to exotic international.

With cosy cafés on nearly every corner, Tallinn is indeed a paradise for coffee lovers. Many attractive cafés are located in the city centre. In summertime tables and chairs are set up outside the cafés, and sitting at backyards or terraces is a great pastime and holiday activity in itself.

Tallinn has more than 100 restaurants, over 300 cafes & bars.
Hetk
The versatile menu also caters well for vegetarians, offering a variety of soups, pasta, risotto and burgers. On the evenings and weekends Hetk turns into a club, hosting a variety of events featuring popular local DJs.
Gloria Wine Cellar
Not only does Gloria Wine Cellar offer the widest choice of wines in the Nordic countries, it's also one of the most elegant and cosy spots in the entire city. Built right into the medieval town wall, this underground hideaway is as good a place for a romantic rendezvous as it is for finding the perfect vintage.
Paar Veini
The atmosphere is relaxing, but nevertheless buzzing with energy, making it popular among trendy young locals.
Nero
Because it's part of the Tallink Spa & Conference hotel, the creators of this classy restaurant have emphasised healthy food, but have made no compromises on flavour. The menu includes choices like beetroot risotto, chanterelle soup, wild berry flavoured pork filet, venison pot and even a hamburger made with a lamb-beef cutlet.
Musi
The name in Estonian means 'kiss', and Musi is appropriately romantic, artsy and inviting. Though some know it better as a wine lounge, this cosy, Old Town establishment works just as well as a café, even offering full-fledged meals. Visitors should ask about upcoming live music events.
Boheem
This earthy venue just past the train station is a favourite haunt of local young, artsy set. Wooden floors and old-style furniture give it a timeless feel. In addition to the usual drinks, light meals are available.
Bocca Pescheria
Those who have tried Bocca won't be surprised that it was once rated among the world's top 50 restaurants by Restaurant Magazine UK. Representing the sophisticated edge of Italian cuisine, it offers an array of daring choices like ravioli stuffed with rabbit meat and oven baked guinea fowl, all in an atmosphere of modern elegance. Its cocktail bar is also a great spot for a quiet, romantic drink.
Cru
In the heart of Tallinn's Old Town there is an elegant yet cosy restaurant, which offers a wide selection of international dishes.
Diip
A small cosy restaurant located on one of the fastest developing areas in Kalamaja, its relaxed, simple and wooden interior compliments the many well-known design studios located in the area.

The menu offers a wide range of starters, pasta, mains and desserts where Estonian cuisine is mixed with European tastes. The restaurant has gluten-free options and offers a special menu for children.
Dominic
Top-notch European dining and a superbly-restored Medieval interior make this Old Town establishment an excellent option for those searching for something a cut above the ordinary. Dominic also bills itself as a 'wine restaurant' and indeed its knowledgeable sommelier stocks among the best vintages in town.
Elevant
Head up the iron spiral staircase and then settle into a wicker chair to enjoy Elevant's peaceful, sophisticated ambience. Here you'll find a selection of tasty Indian standards, along with daring dishes like wild boar kebab and moose curry, all served up by friendly staff. For a dessert with a difference, try the fritter banana in crunchy chickpea dough.
F-Hoone
Part of a smartly re-developed factory complex in the bohemian Kalamaja district, Building-F has made a reputation for itself by offering inventive meals in unusual, retro-style surroundings.

During the day it's a family friendly place with high chairs, play area and changing facilities as well as little outdoor playground. By night F-hoone often doubles as a party spot, hosting alternative events.

Rated among the 50 best Estonian restaurants (2012, 2013).
Kolm Sibulat
A lovely restaurant with a combination of modern decor and a bit rustic feel offers its clients a large variety of delicious and exciting meals from all over the world. The menu includes different pastas, salads, soups and a wide list of wines is also available.
Leib Resto ja Aed
This is a moderately priced restaurant that offers simple food in a relaxed atmosphere. The highlight of this restaurant is hand-made bread.

Who wants to be in Tallinn and under the Tuscan sun at the same time shall make its way to Leib. This place is like a city-state on the border of Old Town, surrounded by Town Wall with superb garden inside, also in winter. Daring team of Leib, head chef Janno Lepik and Baltic's best sommelier Kristjan Peäske, do their out-most to serve local, fresh and seasonal food in the way that the eyes of the waiters and clients would always shine. Lovely lush garden with little sandpit for children make it especially cosy during summer time visits.

Rated among the 50 best Estonian restaurants (2012, 2013)
MEKK
Modern Estonian cuisine made from fresh, local ingredients is the speciality here at MEKK, the Savoy Boutique Hotel's restaurant. This sophisticated Old Town establishment has won kudos for its innovative menu and high standards of service. It even offers a free children's menu meal for kids dining with parents.


Rated among the 50 best Estonian restaurants (2010-2013).
Moon
A top-rated chef and an inviting interior have made Moon (the Poppy Café) one of the most popular destinations of Tallinn's food-loving set. Though the dining experience is casual and café-like, the quality of the food – a small menu of mainly Russian-inspired creations – is considered top-notch. Please note that Moon is closed each July.
Neh
Culinary team from the respected Pädaste Manor on Muhu Island treats Tallinners and its visitors at this bistro-style foodie heaven. Neh is dedicated to Nordic islands cuisine, offering dishes created with authentic produce and seasonal flavours. Adding value is varied choice of Estonian art. Check for opening hours and make sure to book a table in advance.
Olde Hansa
This unforgettable, Medieval-style restaurant is set up like the welcoming home of a 15th-century Hanseatic merchant. Here you can soothe your hunger with roasted game meat, raise your spirit with flavoured wines and enjoy the genuine Medieval atmosphere complete with colourful murals, period music, candlelight and caring service.
SfääR
The ambience at this casual-chic restaurant, conveniently located between Old Town and the harbour, is bright and cosy, mixing Scandinavian classics with local design. It specialises in modern Nordic cuisine that's fresh and seasonal, simply executed and delightfully served up with plenty of smiling waiter service. Sfäär also offers an impressive selection of wines.
Pegasus
Just as the name promises, this sharp, Old Town restaurant focuses on all sorts of fish dishes – from herring fillet salad and tiger prawn pasta to oven-baked baby trout – and offers a decent selection of wines. Some non-fish dishes, such as a risotto and a beef burger, are also available, and it opens early to serve decidedly fish-free omelettes and porridge.
Ribe
Founded by three highly experienced waiters, this artistically decorated restaurant specialises in dishes made with fresh, seasonal, domestic ingredients. Nearly all its menu choices are complex creations, from the crayfish-avocado tar-tar with fennel to the fillet mignon with garlic foam and blackcurrant-red wine sauce. Of its two floors the downstairs is more formal and secluded.
Tchaikovsky
The ultra-elegant Telegraaf Hotel has created this superb restaurant where the traditions of Russian and French cuisine are combined to create a symbiosis of rich flavours. Chef de Cuisine Vladislav Djatšuk, a 2009 finalist in the world's top gastronomy contest, the Bocuse d'Or, has reproduced the recipes of forgotten masters, infusing them with his own experience and vision.

Rated among the 50 best Estonian restaurants (2008-2013).
Troika
Resembling something out of a Russian fairy tale, Troika dazzles guests with elaborate décor, good food, music and dancing. When heading in the door from Town Hall Square, visitors can choose the tavern area or the grander dining room downstairs. In either case, the boyar's bliny and the village-style pelmeni come highly recommended. Expect the occasional folk dance act in the evenings.
Von Krahli Aed
Dishes made with fresh, natural ingredients are forté at Von Krahl's Garden, also known as the 'Embassy of Pure Food'. Spelt pasta, honey-mustard glazed salmon and roast chicken with pumpkin and white wine sauce are just some of the tempting items on offer, though guests are just as drawn by the romantic, earthy interior that's been created in the restaurant's Medieval dining rooms.
Ö
Modern Estonian cuisine is the speciality at this sophisticated, downtown restaurant. Its chefs aim to show off the richness of the food from this region, preparing wonderful dishes created according to their own tastes and visions. Here you can expect everything from crayfish soup with spring chicken and dark beer, juicy venison with beetroot risotto and a variety of other inventions.
Flavours of Estonia
For mouth-watering pictures and restaurant news visit Flavours of Estonia web.