Toerisme Brugge / Jan D'Hondt
Bruges
The guide was updated:
Welcome to the World Heritage City of Bruges!
It is only fair to say that the places that stir all your senses and that creep under your skin are extremely rare. These are the places that pluck your heartstrings, yet whose secrets you can't unlock completely. Bruges happens to be such a unique place. Cultural and artistic, cosmopolitan, unashamedly Burgundian, mysteriously medieval, and a Unesco World Heritage site to boot. Strolling along Bruges' alleys, picturesque canals and verdant ramparts you cannot but fall hopelessly in love with her elegant mysteriousness.
Facts
Population:
Inner City: 23 881
Greater Bruges: 117 395
Currency:
EURO € 1,00 = 100 cents
Search Accommodation:
Hotels »
Emergency numbers:
112 (S.O.S.)
101 (Police)
Newspapers:
De Standaard
De Morgen
Website:
www.visitbruges.be
Opening hours:
Most shops are open Mon-Sat from 10.00 a.m.-6.00 p.m.
Tourist information:
INFORMATION OFFICES

Markt (Historium)
Mon-Sun 10.00 a.m.-5.00 p.m.

't Zand (Concertgebouw)
Mon-Sat 10.00 a.m.-5.00 p.m.
Sun and public holidays 10.00 a.m.-2.00 p.m.

Stationsplein (Railway Station)
Mon-Fri: 10.00 a.m.-5.00 p.m. & Sat-Sun: 10.00 a.m.-2.00 p.m.

Tel: +32 50 44 46 46
toerisme@brugge.be
Read more
Section in Bruges
Do & See
Some places are so special, so breathtaking or so unique that you simply have to see them. Bruges is filled to the brim with wonderful witnesses of a prosperous past, whether they be peaceful and picturesque, spiritual or, on the contrary, extremely entertaining.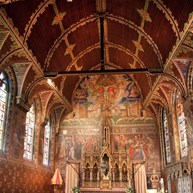 Basilica of the Holy Blood
The double church, dedicated to Our Lady and Saint Basil in the 12th century and a basilica since 1923, consists of a lower church that has maintained its Romanesque character and a neo-Gothic upper church, in which the relic of the Holy Blood is preserved. The renovated treasury, with numerous valuable works of art, is also worth a visit.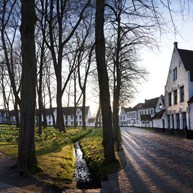 Beguinage
The 'Princely Beguinage Ten Wijngaarde' with its white-coloured house fronts, tranquil convent garden and beguinage museum was founded in 1245. Nowadays, this item of World Heritage is inhabited by the sisters of the Order of Saint Benedict. The Beguinage entrance gate closes without fail at 6.30 p.m.
Belfry
This most important of Bruges' towers stands 83 metres tall. It houses a treasure-chamber, an impressive clock mechanism and a carillon with 47 silver-toned bells. Your reward after a climb up the tower's 366 stairs is a breathtaking and unforgettable panoramic view of Bruges and her surroundings.
Visit Bruges. Visit More
There are places that somehow manage to get under your skin or work their way your heart, even though you don't really know them all that well. Bruges is that kind of place. A warm and friendly place, a place made for people. A city whose history made it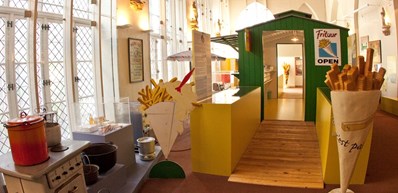 Belgian Fries Museum
This didactic museum sketches the history of the potato, belgian fries and the various sauces and dressings that accompany this most delicious and most famous of Belgian comestibles. The museum is housed in Saaihalle, one of Bruges' most attractive buildings.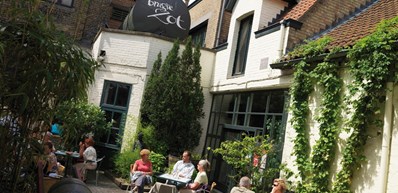 Brewery De Halve Maan
The 'Halve Maan' (Half Moon) is an authentic and historic brewery in the centre of Bruges. This 'home' brewery is a family business with a tradition stretching back through six generations to 1856. This is where the Bruges city beer – the 'Brugse Zot' – is brewed: a strong-tasting, high-fermentation beer based on malt, hops and special yeast. There are guided tours of the brewery every day in a number of different languages. After the tour, visitors are treated to the blond version of the 'Brugse Zot'. If you want to take a souvenir back home with you, why not pay a visit to the museum shop?
Bruges - World Heritage City
Bruges - World Heritage City
Bruges Beer Museum
The Bruges Beer Museum has recently been opened on the upper floors of the old post office on the Market Square. It tells you the story of beer in a fun and innovative way. With an iPad Mini as your guide, you will discover all the most fascinating features of beer (and that includes tasting!). Immerse yourself in the beer history of Belgium and of Bruges. Discover the many different types of beer and unravel the mysteries of the brewery process. The kids' tour tells the same story, but specially adapted for children (5 to 15 years old).