Help us improve our new site!
Feskekörka
Der Reiseführer wurde aktualisiert:
Diese Fischhalle, deren Gebäude an eine Kirche erinnert, bietet eine große Auswahl an Fischgeschäften und -restaurants. Sie ist sowohl bei Anwohnern, die hier frischen Fisch und Meeresfrüchte zum Abendessen kaufen, als auch bei Touristen äußerst beliebt. Hier können Sie die außergewöhnlichen Fische in den Auslagen bestaunen und den Fischern beim Anpreisen ihrer Waren zuhören.
Nützliche Informationen
Adresse: Rosenlundsvägen, 41125 Göteborg
Mehr Infos: Straßenbahnhaltestelle: Grönsakstorget.
Öffnungszeiten: Dienstag bis Freitag 10.00 ‒ 18.00 Uhr, Samstag 10.00 ‒ 15.00 Uhr
Website: www.feskekörka.se
Telefon: +46 31 13 82 34
Reiseführer herunterladen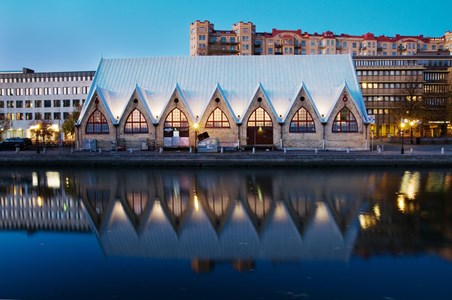 Try our
NEW

site!
Our
NEW

website is now available, give it a try! Let's Go There!
Our
NEW

website is now available, give it a try!
Book

On the new ArrivalGuides you can book your next flight or hotel for the best price.

Plan

Collaborate with your friends or invite an agent to plan the best trip ever! All in one place.

Explore

578 and counting updated guides from the most popular destination all over the world.