St.Petersburg
Guiden ble oppdatert:
Byen med sin oppsiktsvekkende arkitektur, deles av den brede elven Neva som krysses av utsmykkede broer. Fasadene oser av historie, og fargene og størrelsene på bygningene kan nesten bli for mye å ta inn. Peter den stores «ansikt mot Europa», holder på å få tilbake sitt keiserlige luksuspreg. Byens historiske sentrum og store palass, utrolige museer, fantastiske kirker, musikk, kunst og litteratur er vell verd et besøk.
Fakta
Befolkning:
5 millioner
Valuta:
Russisk rubel (RBL) 1 rubel = 100 kopek
Nødnumre:
Generelt 01
Medisinsk 03
Turistpoliti +812 764 9787/278
3014
Aviser:
Pravda
Izvestia
Vyedomosti
Vesti
St Petersburg Times
Neva News
Pulse
Åpningstider:
Butikker 09.00/11.00-19.00/22.00.
Mange har søndagsåpent. Lokale døgnåpne butikker selger mat, sigaretter og alkohol.
Bankene har vanligvis åpent fra 10.00-18.00 mandag til fredag.
Turistinformasjon:
City Tourist Information Centre
Adresse: 14/52, Sadovaya Ulitsa
Telefon: +7 812 310 2822
Metro: Gostiny Dvor
Åpningstider: Hverdager 10.00-19.00, stengt lørdag og søndag.
Les mer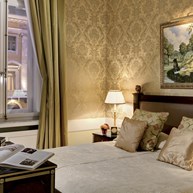 Grand Hotel Europe
Overdådig og romantisk med dekorasjoner i jugendstil. Kanskje det fineste hotellet i byen.
Read more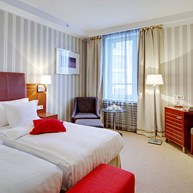 Moyka 5 Hotel
Nyåpnet, fantasifullt utformet 24romshotell. Få minutter fra de største severdighetene.
Read more
Fabergé Museum
Fabergé Museum in St. Petersburg was founded to preserve, study, and promote Russia's cultural heritage as well as to develop the city's extensive network of museums. The museum's collection contains the world's largest collection of works by Carl Fabergé, including nine of the famous Imperial Easter Eggs, regarded not only as the finest jeweled works of art, but also as unique historical artifacts. The museum's collection also includes decorative and applied works made by the Russian masters of the late 19th and early 20th centuries. The museum is located in the Shuvalov Palace on the Fontanka River - one of the most beautiful palaces in St. Petersburg.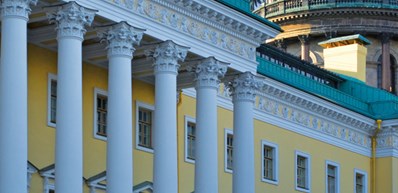 Deluxe Hotel
Fint minihotell med 7 toetasjesrom. Et av de rimeligste hotellene i kjeden «Hotels on Nevsky».
Read more
The Art of Fan Museum
The Art of fan Museum houses over 300 exponents from almost every corner of the world, the oldest of which dates back to 17th century. Fans of the collection originate from China, Japan, Korea, France, England, Italy, Spain, Germany, the Netherlands, Russia, and even Brazil. The Museum occupies a section of ceremonial rooms designed in the Russian Empire style in the Louis Sixteenth building.