Jo Anslow
San Francisco, California
The guide was updated:
"Every man should be allowed to love two cities – his own and San Francisco," stated author Gene Fowler. San Francisco, also known as the City by the Bay, is a diverse, colorful, and intriguing destination luring visitors from all corners of the world with its beauty, culture, history and dynamic ambience. It is best known for its steep hills, beautiful panoramic vistas, and excellent cuisine. The eclectic mix of architecture, sandy beaches, ethnic and cultural diversity, and entertainment for all ages makes San Francisco a great choice for vacation.
Facts
Population:
825,000
Currency:
U. S. Dollar, $1 = 100 cents
Emergency numbers:
911
Newspapers:
San Francisco Chronicle
Website:
sfgate.com
Opening hours:
Shops: 9a.m. - 9p.m.
Banks: 9a.m. - 5p.m. Monday-Friday (Some are open half-days on Saturday)
ATM: 24 hours
Tourist information:
Visitor Information Services
900 Market Street (Lower Level of Hallidie Plaza)
Opening hours: Monday-Friday 09.00 to 17.00 Saturday-Sunday 09.00 to 15.00
+1 415 391 2000
Read more
Section in San Francisco, California
Do & See
San Francisco is a diverse destination, encompassing nature, history, art, science and some of the most beautiful scenery along the West Coast of the United States. It is not only hip, but pop culture and old traditions are neatly packed into this one fabulous city.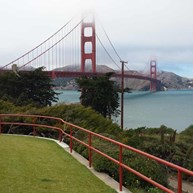 Golden Gate Bridge
The Golden Gate Bridge is acclaimed to be one of the world's most beautiful bridges. Its bright orange towers and sweeping main cables glow in the sunshine or are engulfed in the fog that frequents this area. No matter if you drive, walk or bicycle across this engineering marvel, the views are spectacular.
Do & See
San Francisco Cable Cars
No visit would be complete without a ride on a cable car. These cable-powered streetcars have been transporting people up and down the fabulous hills of San Francisco since 1873. A highlight of the ride is actually at the end (or beginning) at the turnaround. Watch while drivers push the cable car on a rotating platform 180 degrees for the trip back up the hill.
Fisherman's Wharf
A long strip along the waterfront is home to the Cannery, Ghirardelli Square and Pier 39. A working waterfront, also called Fish Alley, sells tons of sole, shrimp, salmon, and squid every year. Crab season (mid November - June) is the time for seafood lovers. There is shopping, entertainment, restaurants and vendors who sell Dungeness Crab ready to eat.
Aquarium Of The Bay
In addition to the expected displays of sea life, this unusual aquarium invites visitors into the hidden world of life under San Francisco Bay. A moving walkway takes you through two crystal clear tunnels, 300 feet in length, surrounded by 700,000 gallons of filtered Bay water and more than 23,000 aquatic animals.
Do & See
Lombard Street
This steep and winding street is the most photographed street in San Francisco. Tourists come to Russian Hill to see, drive or walk down the "crookedest street in the world," with eight hairpin turns. The Hyde Street Cable Car makes a stop at the top of Lombard Street. Along with the dramatic view of Lombard Street, there are awesome views of Fisherman's Wharf and the Bay.
Chinatown
Walking through the dragon-adorned Pagoda Gates leads visitors into the colorful and exciting area of San Francisco known as Chinatown. It is tightly packed with exotic shops, ethnic food markets, and excellent restaurants. In February each year, the Chinese New Year is celebrated here with parades and dancing dragons.
Do & See
Alcatraz
Once a federal prison housing dangerous and notorious criminals, Alcatraz (The Rock) now welcomes tourists into the cellblocks once occupied by the likes of Al Capone, Machine Gun Kelley, and the Birdman of Alcatraz. Self-guided audiocassette tours have dramatic narratives of Alcatraz's grim history, including realistic sound effects one would hear in prison.
Do & See
Walt Disney Family Museum
If you are a Walt Disney fan, then this is the place to visit. Here you will learn more about the fascinating and inspiring story of Walt Disney – the man behind Mickey Mouse and Snow White. This fun museum features historic materials and artifacts, including early drawings and animation, movies, music and much more.