Get the
free
London guide
now!
Last Download: 2013/10/22 09:17:18 from Ireland.
Articles about "concerts"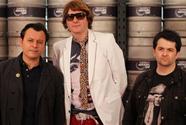 Manic Street Preachers postpone London concerts
James Dean Bradfield (left) has acute laryngitis and has to rest his voice. Manic Street Preachers have postponed two concerts at London's Brixton Academy because frontman James Dean Bradfield has laryngitis. The dates on Thursday (28 October) and Friday (29) have been rescheduled for 21 January and ...
BBC News
LSO/Rattle - review
Simon Rattle concerts are doing a London bus impersonation: none for ages, then arriving in droves. After his four Berlin Phil concerts in London last month, Rattle returned for his first LSO date in many years. Compared with the Berlin appearances I attended, this one was in many ways ...
Guardian Unlimited (The Guardian / The Observer)
Jackson's London concert tickets sell out fast
Tickets for Michael Jackson's 50 London concerts sold out within hours of becoming available, organizers said yesterday. The shows are scheduled to kick off in July and stretch into February. The pop singer has said the series, entitled "This Is It," will be his last in the British ...
The Globe and Mail
Michael Jackson's London concerts in jeopardy
... for one show is unheard of, that's why we're so frustrated," Allocco said. "Frank DiLeo is standing in our way. [Concert promoter for the London concerts] AEG has been constantly frustrating our ability to get this show." The legendary star created a frenzy when the advance tickets were put ...
Channel Newsasia
MJ fans can have money back or keep souvenir tickets
LONDON: Promoters of Michael Jackson's planned London concerts said Tuesday fans who bought tickets can either have the money back or keep the souvenir ticket as collectors' items. Promoter AEG Live said the tickets for the sold-out comeback concerts, titled This Is It, feature 3D graphics ...
The Economic Times
"King Of Pop" Announces London Concerts
If you believe this comment is offensive or violates the CBSNews.com Terms of Use, you can report it below (this will not automatically remove the comment). Once reported, our staff will be notified and the comment will be reviewed. Select type of offense:.
CBS News
Michael Jackson to add concerts after sellout
LONDON (Reuters) - Michael Jackson will add more shows to the 10 London concerts already announced this summer as his comeback to live music, organizers said Wednesday. The 50-year-old singer has been a virtual recluse since his acquittal on child abuse charges in a 2005 trial, his last full ...
Reuters
What blogs say about "concerts"
Enjoy London Nightlife With Good Food and Great Entertainment
... rock to rhythm and blues. There are excellent indoor arenas like the O2 Arena and the Royal Albert Hall to stage top-class concerts. Concerts in London are well organised and attract top international artists. London nightlife for the dedicated movie buffs means there are hundreds of ...
Enjoy London Nightlife With Good Food and Great Entertainment
Email me if any play here
This McFly concert in London UNITED KINGDOM is 7th of 27 McFly concerts in 2011. The show preceding this one is McFly in London on Friday February 11. The next McFly show is just NAN miles away in 9 days: McFly in London, on Monday March 7. Other McFly concerts nearest this Performance of 'That's ...
McFly concert maps
New York Dolls take it Underground
New York Dolls have announced two "underground" London concerts at the Old Vic Tunnels on Wednesday 30th March and Thursday March 31st. The concerts will take place underneath London's historic Waterloo train station in what is described as a network of Victorian red brick tunnels. The ...
New York Dolls take it Underground
Berakah – The London Concerts
Berakah are pleased to announce that tickets for their concerts in February 2011 are now on sale. Berakah will be launching their 2nd album,One Ray Of Light, with two special concerts on Saturday February 12th and Sunday February13th, 2011 at the beautiful St.Paul's Church in Covent Garden,London ...
Berakah – The London Concerts
New York Dolls Going Underground
... New York Dolls will play two "underground" London concerts at the Old Vic Tunnels on Wednesday, March 30 and Thursday, March 31. The concerts will take place underneath London's historic Waterloo train station. The London concerts support the Dolls' forthcoming album release, ...
Gibson Lifestyle