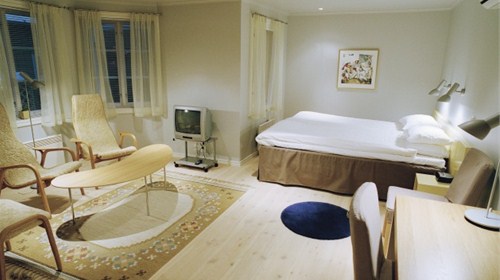 Hotels on Öland extend over a broad spectrum: choose from fashionable hotels in town or more familiar hotels in the countryside.

It easy to live well while on Öland. Book your accommodation at Ölands Turist: www.oland.se or call +46 485 89 000
Hotel Skansen
Hotel centrally located close to the harbour in Färjestaden. A spa facility and one of the world's largest selections of whiskies in the bar makes Hotel Skansen a centre for enjoyment.
Eksgården Hotell
Eksgården is beautifully situated diagonally opposite Gårdby church on Öland's eastern highway, where Mittlandsskogen Forest meets Alvaret and where the saltmarsh meadows extend towards the uninterrupted horizon of the Baltic Sea. The farmyard has been carefully restored and has easy accessibility for the disabled.
Gammalsbygårdens Gästgiveri
The inn is in the old Öland style and offers home cooking. On southeastern Öland, 4 km from Eketorp Castle and 14 km from Ottenby Bird Sanctuary – walking distance to Gräsgård fishing harbour.

Drottning Victorias Hotell och Vilohem
Drottning Victorias Hotell och Vilohem (Queen Victoria's Rest Home) on Öland is a place created for peace and quiet. Everything here – the shade of the mulberry tree, the flowers, the scents from the spice garden, the beautiful rooms and the park garden – has the objective of creating peace and tranquillity. Overnight or weekly bookings. Arrival and departure for weekly stays is on Mondays.
Brukshotellet Degerhamn
The hotel in Degerhamn is located a stone's throw from Kalmar Sound. You are welcome to stay here with us all year round in modern, high-standard hotel rooms.

Villa Ingrid
Villa Ingrid Frukosthotell (bed and breakfast) is located in Borgholm. Charming, homely accommodation in a peaceful location, but still at comfortable walking distance to restaurants, the harbour, swimming and everything else that Borgholm has to offer. There are a couple of rooms where dogs are welcome.
Pensionat Grankullavik
Pleasant and well-arranged accommodation in an area of natural beauty. Close to the Långe Erik lighthouse, Trollskogen Forest, Neptuni Fields and a lot more.
Villa Rosenborg
Villa Rosenborg is a friendly Bed & Breakfast in a charming Art-Nouveau villa in central Borgholm. Three personally furnished guest rooms in a harmonious and congenial 1920s ambience. Library of detective novels. Access to garden and private parking. Close to everything and a perfect starting point for excursions and swimming.
Rosenborgs Friluftspensionat
Rosenborg is a typical old enclosed Öland farmyard, erected in 1758. The farm is completely separate from other houses. The site was not previously cultivated and life was hard for the settlers who took up residence on this "outlying land." It is now a valuable location in these stressful and impatient times.
Stay on a farm, Mellangården
Central Öland What you get here is a made-up bed and a substantial breakfast in the morning! As a guest at Mellangården you have access to a fully equipped kitchen, a reading area, TV room and 3 WCs/showers etc.
Mellby Ör Inn
Accommodation with a perfect location in the middle of the world heritage site with views over both the Baltic Sea and Alvaret. Breakfast, linen and cleaning are included.
Halltorps Gästgiveri
Halltorps Gästgiveri is situated in the midst of the beauties of Öland with an enchanting view out towards Kalmar Sound. The first-rate food, personal service and individually furnished rooms make the inn a popular place to stay.