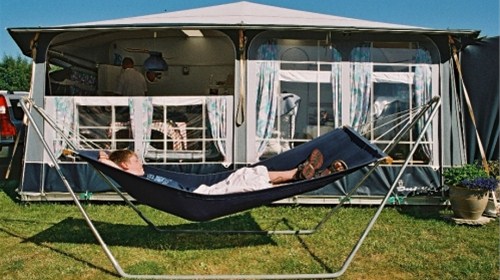 Öland is clearly the leader in Sweden when it comes to camping and cottage holiday. So it has been for many years and it is strongly believed to continue if you look at the positive trend. Öland sites have over 800 cottages, ranging from the simple ones to true luxury houses with Jacuzzi and steam room.

KronoCamping Saxnäs
Ideal location just north of the bridge. Sunbathing and swimming at the child-friendly sandy beach or at the big beautiful pool area "Southpool". It is close to most of Öland has to offer and the summer town of Kalmar reach you comfortably through the bridge.
Choose from generous pitches and comfortable cabins. On Saxnäsgården absolutely bursting with activities during the summer! Dance evenings, shows, family entertainment, and events for the whole family are just a few examples. Supermarket, pool café and restaurants with full rights! Saxnäsgården - 3/4-delar of the year! Spring - Summer - Autumn! For price periods and current offers please visit the website.

Sandviks Camping (through SCR)
Welcome to Sandviks Camping, approx 33 km south of Färjestaden. Stay in a quiet, scenic setting right by the Kalmar Strait.

First Camp Eriksöre (through SCR)
Eriksöre is a pleasant four-star family campsite, beautifully situated by Kalmarsund, 6 km south of the Öland Bridge.

Möllstorps Camping (through SCR)
Come and stay at Möllstorp which offers you Öland's best sunshine and bathing opportunities and is the perfect base for excursions on Öland and in and around Kalmar.

Klintagårdens Camping (through SCR)
Family camping in a beautiful natural setting with a wonderful view of Köpingsviken.

Grönhags Camping (through SCR)
A family campsite situated right at the very end of one of Öland's best beaches and one of its most suitable for children, in the centre of Köpingsvik.

Klinta Camping (through SCR)
There are many reasons to come to sunny Öland, but only one choice when it comes to selecting a family campsite and holiday village.

Köpingbaden (through SCR)
Köpingsvik is a tourist resort with tradition - summer guests have been coming here since the 19th century, and the location now occupied by our campsite was one of the first places where tents were erected.

Löttorps Camping (through SCR)
The lovely northern part of Öland is edged by shallow, sandy beaches with great swimming and nice sunset walks.

Bödagårdens Camping (through SCR)
Welcome to Bödagårdens Camping this summer!The tranquil and idyllic location by Bödabuktens many miles of sandy beach make Bödagården one of Ölands summer gems for many.

Neptuni Camping (through SCR)
Welcome to Neptuni Camping - a calm, beautifully situated family campsite in central Byxelkrok.

Böda Hamns Camping (through SCR)
Marvellous familu camping located on the northern side of Öland by, near a living fishing-village with fresh and smoked fish, 50 m from the sandy shallow beach with a seperatl dog bath.

Wikegårds Semesterby (through SCR)
Wikegård's Family Camping. Frönäs 35 km north of Borgholm on the eastern side. Wikegård's Camping is situated by a genuine Öland farmyard from the 1880's, where the houses have been renovated to become service facilities.

Bödabaden Camping (through SCR)

Gröndals Camping & Stugor (through SCR)
Come and stay at our campsite this summer. Our well-kept cosy little campsite lies close to one of Öland's finest sandy beaches.

KronoCamping Saxnäs/Öland Camping & Stugby (through SCR)
Our central location on Öland is perfect! The campsite's proximity to Alvaret, Färjestaden, Borgholm and the summer city of Kalmar is perfect

Sonjas Camping & Stugor (through SCR)
Northern Öland, always high in the sun league tables, boasts some of Öland's longest and best sandy beaches. There is also Sonjas Camping och Stugor, the lovely, tranquil five-star family campsite with something to offer most people, young and old.

Ottenby Vandrarhem och Camping (through SCR)
You, who want to spend your holiday in the south of Öland, Sweden, or just need to stay overnight,here you have the most southerly Youth Hostel and campingsite on Öland. You find us about 55 km south of Öland bridge, near Ås church.

Kapelludden Camping & Stugor (through SCR)
Nice four-star family campsite that is close to everything!

Stenåsabadets Camping (through SCR)
Beautiful family camping place in natural surounding on south east Öland.

Kronocamping Böda Sand (through SCR)
Welcome to a complete holiday village teeming with activities. Stay on a 20-km white sandy beach with shallow water. A paradise for families with children. Pitches of 100-150m2.

First Camp Ekerum (through SCR)
We have Öland's best location for sun, swimming and golf.

Haga Park Camping & Stugor (through SCR)
Holiday resort in surroundings of great natural beauty sheltered from the wind.

Lundegård Camping & Stugby (through SCR)
Lundegård is one of Öland's biggest campsites with lots of green areas and vegetation. Nice views over Kalmar Sound.

Sandbybadets Camping (through SCR)
Welcome to a small and tranquil family campsite with personal service and a beautiful location approx 200 m from one of Öland's most child-friendly sandy beaches.