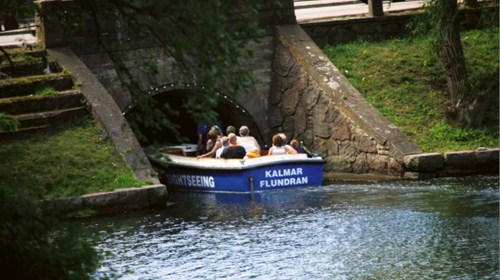 In Kalmar there is lots for the whole family to do! Why not encounter exciting challenges together at eXperimentLabbet, the science discovery centre, which in a playful way teaches technology, physics, biology, chemistry and environmental science. Lekland (Playland), go-karts, croquet, mini golf, billiards, bowling and laser games are other examples of activities you can do together with family, friends or colleagues.
Äventyrsbadet
The water park's theme is beach party with swaying palms and an intimate setting. Attractions that the pool offers include a water slide, water bomb and water cannon, climbing wall, diving tower.
KalmarGolfklubb
Kalmar Golf Club has two 18-hole courses that maintain high standards and facilities that are currently undergoing a major facelift.
Kalmar FF
Premier Division football at one of Sweden's newest arenas - Gold Bird Arena.
Cinema
Kalmar has two cinemas to choose from:

Biostaden.

Biostaden, opened in 1995, is a modern multi-screen cinema with four different auditoriums, the Röda Kvarn with 255 seats, Palladium with 122 seats, Skandia with 76 seats and Göta with 49 seats.

The cinema features the latest in audio and video, large screens, generous space for legs and unobstructed viewing for everyone. There is also priority seating for the handicapped and hearing loops in all the auditoriums. Amenities include a kiosk with popcorn, candy and soft-drinks, as well as dining with a view of the harbour. Ample parking. Conference facilities as well.

Biostaden is located in the same building as Baronen's Shopping Centre at the Guest Harbour in the city centre.

Address: Skeppsbrogatan


Saga.

Saga, Sweden's oldest cinema still in operation today, is a modern cinema equipped with digital sound. It was built in 1906, and since then has operated as a cinema.

Saga has 173 seats, and is one of Kalmar's largest auditoriums. It is also equipped with hearing loops and wheelchair accessibility. A kiosk with popcorn, candy and soft drinks is located in the lobby.

Saga Cinema in Kalmar was inaugurated as Biografteatern Göta in February 1906, in a farmhouse at Södra Landsvägen 12. The premises had enough room for 90 movie-goers sitting on wooden chairs. When it changed owners in 1911 the cinema's name was also changed -to Biorama and the auditorium was expanded to hold 360 seats.

In 1939 a neon sign was to be erected over the pavement, but the name Biorama was too long. There was only room for four letters, and after careful consideration the name Saga was chosen, a name that at the time was growing among the country's cinemas. The cinema was also renovated at the time, with new murals, wider seating and new lighting. More recent renovations were made in 1983 and 1997, when, among other things, the old murals and old lighting were repaired.

The cinema is located in a charming cultural landmark wooden villa from the 1800's which is now owned by Länsförsäkringar Kalmar and rented out to Kalmarbiografer HB.

Address: Södra Landsvägen 12