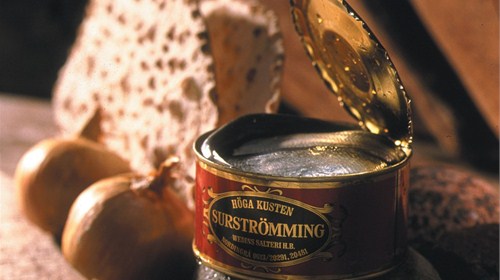 The food in Höga Kusten has strong traditions. The fermented herring is considered the local national dish. The third Thursday in August is traditionally fermented herring premiere. For those who choose not to eat fermented herring, there are plenty of good options around in Höga Kusten. In the cities there is a wide selection of restaurants to choose from and outside the urban centers, you can enjoy the culinary delights of rural and cultural environments. Found out more at www.hogakusten.com.
Cornerhouse
Corner House offers good food and the restaurant and bar are a popular for an After Work dinner in Junsele. One reason may be that the bar offers one of Norrland's largest selection of whiskey. The landlord also organizes whiskey and wine tastings, booked in advance.
Näske Krog
Beautifully situated roadside restaurant at Skulesjön. The restaurant serve everything from daily specials to a la carte and gourmet dinners, specialty is fish. Näske Krog also offering café. Receives bus groups. Open in summer.
Skutskepparn
In the old fishing village Barsta you find Skutskepparn, a restaurant located in the heart of the High Coast. Skutskepparn serves freshly caught fish. Specialties are fresh fried herring with homemade mashed potatoes, and various pickled herring. The premises are bright with a great view of Barsta fishing village and harbor.
Gästgiveri Spjutegården
Spjutegården was built in 1805 and offers restaurant and conference facilities. The restaurant is open for lunch Monday-Friday, other times you need to book in advance. In addition to daily specials, they offer a business lunch, a la carte, catering and cafe serving. At Spjutegården you can rent both large and small rooms, and book in advance.
Restaurang Varvsberget
Restaurant on top of Varsberget (150 meters) where you can enjoy good food and incredible views of Örnsköldsvik. Here they serve among others northern specialties and a la carte. There is also a terrace with 20 seats.

Fiskarfänget
The restaurant Fiskarfänget is located in the authentic boathouse environment in Norrfällsviken. It is a popular meeting place and popular destination for boaters and visitors who stays overnight at the campsite or hotel nearby. A big buffet with all kind of fish is always served and there are also fish for sale.
Myregården Café & Restaurang
Lovely food and views of Ångermanälven river make Myregården a popular choice. Myregården is open six days a week over the summer season, offering snacks and meals. The menu varies, always with one fish and one meat dish. Myregården's BBQ buffet is served at weekends, weather permitting. Table can be booked in advance. The barn also has a flea market.
St Petri Logen Med Vägg-i-vägg
St Petri Logen is a magnificent celebration premises and also Norrlands oldest timber restaurant. It opened in 1871 and has, besides a large reception room, a park available. There is also an a la carte restaurant, Vägg-i-Vägg.
Fiskevistet
Restaurant in Skeppsmalen's fishing village. They serve maritime cuisine and meat dishes. Surtrömming (fermented herring) are always on the menu! Here you also find Surströmming Museum.
Österåsens Hälsohem
Health retreat set in a beautiful park with an herb garden, wonderful walks and art collection. View across the river valley. Vegetarian food only. Table can be booked in advance.
Restaurant Toledos
The restaurant offers Mediterranean cuisine with more than 30 tapas, main dishes and salads on the menu. Lunch and evening opening hours. In the summer you can enjoy your meal in the pleasant courtyard.
Hamnkrogen
Restaurant located at Nattviken in the center of Härnösand. In the summer you can sit outside on the dock and enjoy good food and beautiful views. The restaurant serves a la carte menu seven days a week and also has a lunch buffet Monday - Friday. There is often live music on Fridays and Saturdays.