Malin Lundquist
Ängelholm
The guide was updated:
Find something new to explore every day.
Our idyllic coastal town has plenty to offer all year round. Ängelholm is a potters' town with creativity in abundance. Plan your own cultural itinerary and visit art galleries, potteries and studios. Located right in the centre of town, Hembygdsparken with its folk museum, playground and small zoo with Scandinavian animals attracts visitors of all ages. The exploratory railroad museum, Järnvägens Museum Ängelholm, never gets boring, nor does Ängelholms Flygmuseum, dedicated to aviation – it even has its own flight simulator.
Are you partial to a game of golf? Then you've come to the right place!
Facts
Population:
40,000
Currency:
Swedish krona, 1 Kr = 100 Öre
Emergency numbers:
112
Website:
www.engelholm.com www.familjenhelsingborg.se www.visitskane.com
Opening hours:
Shops are open Monday-Friday 10-18, Saturday 10-15 ( some shops to 16 ). Department stores and supermarkets have longer opening hours and also open on Sundays.
Tourist information:
Ängelholms Näringsliv AB,
Ängelholms Turistbyrå,
Address: Järnvägsgatan 5a 262 32 Ängelholm,
Tel: +46 431-821 30
www.engelholm.com
Read more
Section in Ängelholm
Do & See
A paradise for active people The coastline, forests and country roads are all made for hiking or riding you bike along them. Go on a day trip or stay somewhere overnight. Find out about our different package deals and buy a map at the Tourist Office. One popular bike route is 16 km long Lergöksrundan, which passes through the city and forest and follows the coast. Scenic hiking trails On the Hallandsåsen ridge, above the Västersjön lake, several hiking trails will take you through unspoilt countryside and past historical remains. Why not pack something to cook over an open fire along the way? Skåneleden, a system of hiking trails all over Skåne, also passes through Ängelholm. The Ängelholm – Vejbystrand leg of the hike is accompanied by sandy dunes, rocky stretches of coast and small marinas. A campsite with a permanent shelter can be found north of Vejbystrand. Relaxing swimming in the sea or in a cool lake Towards the end of the 19th century, Ängelholm became a famous spa and bath resort. Along the vast beach, there is plenty of room for everyone to find their favourite spot. Ängelholms Havsbad in the innermost part of the Skälderviken bay is a six km long beach suitable for swimming, with a unique landscape of tall sand dunes. In Sibirien, dogs and horses are allowed in the water. Dogs are also allowed on the smaller beach north of the harbour inlet. One stretch of the beach has been set aside for naturists. The popular village of Skälderviken has a small marina with a pub and a marine store. Vejbystrand and Magnarp have their own small harbours, and at the Hyltabryggan jetty in Björkhagen, you will find Skälderviken's underwater snorkelling trail, where you can learn about the species that inhabit the bay. Västersjön is a nice lake for swimming, particularly at Ugglehult, where you will find jetties and a rowing boat for wheelchair users. Exciting canoeing Enjoy an unforgettable visit to the river Rönne. Bring along your family or friends on an exciting canoeing trip along the river which runs through Ängelholm and enters the sea in Skälderviken. Set your own pace. Should you wish to camp along the way, there is a great campsite with a shelter, public toilet and freshwater at Höja. An angler's paradise Ängelholm is a haven for fishing enthusiasts. The river Rönne is one of four rivers in Skåne with salmon, but perch, roach, pike and sea trout will also bite. The river Vege and the Västersjön lake are also popular with anglers. You will need a fishing permit, which can be purchased from the Tourist Office, among others.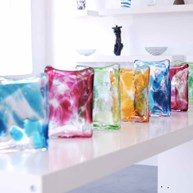 Glashyttan- Christian Svensson
The Glassblowing Hut is outside Björkhagen just north of Ängelholm in northwest of Skåne. The Hut is spacious and bright, a lovely room that can accommodate many people. In the middle of the room is as it should be the heart, the open workshop, which is framed by the surrounding store shelves and podiums. The hut arrange glassblowing for small and large groups, businesses and individuals, tailored to the number of persons and preferences.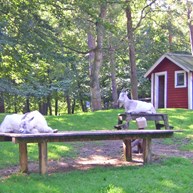 Ängelholms Homestead Park
In Ängelholm's Homestead Park you can enjoy several hours among the animals in the park or on the playground. Admission free. Children's theatre performs in July and August three days a week. Ice-cream stall.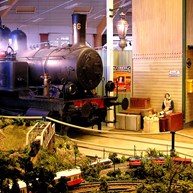 The Railway Museum Ängelholm
The Railway Museum Ängelholm is a museum experience for the whole family. See our large model railway and related slide show showing the railway's history. Or take a ride in the simulator LOCOMOTION. We show the exciting exhibitions and activities for children and adults year round. Welcome!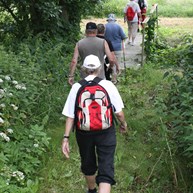 The Public Recreational Area of Djurholmen
The Public Recreational Area of Djurholmen north of lake Västersjön of approx. 500 acres with a magnificent nature, for example the Djurholmen moss, an unaffected bog complex of one for Scania unusual type. 6 marked hiking trails, barbecue places, information boards.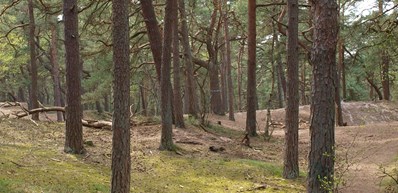 The Public Recreational Area of Kronoskogen
Nature area with beautiful scenery inside Skälderviken's unbroken beachline with natural, inland sand dunes. The area offers hiking trails and a wealth of plant and animal life. The woodland shore region has one of the few natural coastal dune landscapes in Sweden. Beach, wooded area with sand dunes. Several trails in an area with rich flora and fauna.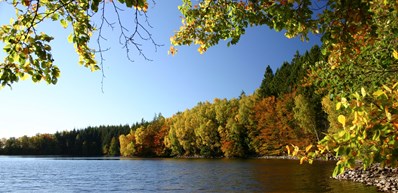 Västersjön / Rössjön
One of the most beautiful sceneries of the Hallandsåsen ridge. In the lake Västersjön you can swim and fish, while the lake Rössjön is a bird sanctuary. On the hillsides north of Rössjön there are several deep ravines. The most famous one is Trollehallar with its 35 m high steep walls.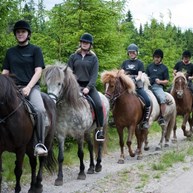 Spelmansgårdens Icelandic Horses
Around Spelmansgården there are lovely trails in Hallandsås in beech forest and over streams. The environment is perfect for taking a ride with Icelandic horses.