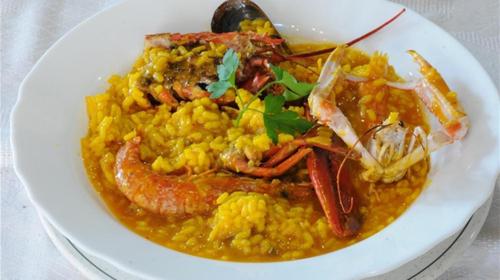 The richness and variety of the cuisine in Benidorm has developed thanks to the success and influence of our ancestors and other cultures, all of which have left their mark on the local gastronomy. As a result, the influence of international cuisine, culinary traditions inherited from the Arabs, the legacy of merchant mariners, as well as the typical cuisine of local fishermen and traditional dishes from inland areas, results in an extraordinary range of flavours, aromas, textures, and colours to suit all palates.

Tapas in Benidorm: Spain is renowned for its tapas. Benidorm offers a variety of tapas bars and pubs. There is a popular route that starts in Constitution Square continuing along Santo Domingo Street, Martinez Oriola Street and the surrounding streets. It is, however, possible to discover tapas bar around almost every corner in Benidorm.

Restaurants: The choice of restaurants to be found in Benidorm reflects universal tastes. Enjoy local dishes of legume stews, fish and meats, Alicantinian cuisine based on seafood with rice cooked in pots known as "calderos", also Italian, Indian, Chinese, Thai, Argentinian, Moroccan, Mexican, British, Central European and French. There are many fast food, grills and excellent restaurants of creative cuisine to experience.
Benidorm Gastronomy Events 2014
This year The Benidorm Gastronomy has increased to six its number of gastronomic events:

III Hot Dish Days "Soups and Stews": from 17th to 23rd of February
IV Tapas Competition: from 31st March to 6th April
Seville's Festival in Benidorm: from 5th to 11th May
V Benidorm Gastronomy Days: from 6th to 15th June
World Tourism Day. Tapas Week: from 22nd to 28th September
III Paella Days of Benidorm: from 13th to 19th October
II Hot Dish Days "Soups and Stews"
From 17th to 23rd of February you can taste traditional Spanish dishes.
IV Tapas Competition
From 31st March to 6th April many bars and restaurants in Benidorm prepare their best "tapas" for this competition and tourists and residents can taste them for a reasonable price and vote for the best.
Seville's Festival in Benidorm
From 5th to 11th Many bars and restaurants in Benidorm offer typical Spanish food as well as flamenco shows.
V Benidorm Gastronomy Days
V Gastronomic Days arrive with the help of a large group of restaurants in our city, willing to give the best of themselves during a week, from 6th to 15th of June, that promises plus lots of variety, great quality at affordable prices.
World Tourism Day. Tapas Week.
From 22nd to 28th September.
III Paella Days of Benidorm
From 13th to 19th October, a large group of restaurants put on their tables the infinite varieties of a dish that is the summit of our kitchen, so that the rice stews, mellow and dry, inspired by ingredients from the garden, the poultry or sea, are the heads of a few days in which our restaurants and our professionals will again be protagonists.
La Taberna del Ulia
Located in Benidorm cove in a residential area close to the sea, is one of the most representative restaurants. Enjoy the beautiful terrace with their specialities: meat, fish, seafood and tapas.
Esturion Restaurant
Large heated local, specialized in celebration of events, baptisms, communions, bachelor, with a great deal. Live music and karaoke during dinner time.
La Cuina de Ponent
Family restaurant specialized in Mediterranean cuisine. Located next to Poniente Beach. Gastronomic offer based on rice, pasta, meats, salads and fresh fish. Own making desserts and great wine list.
Rias Baixas Restaurant
Galician restaurant located in Levante Beach with excellent views of the sea and a wide terrace. They have a hundred guests dining living room and a 42 private dining room. Great variety of rice, seafood and fresh fish brought directly from the port.
La Falua
Roomy restaurant with neoclassical style. Avant-garde cuisine where the product is fussed over. It can hold up to two hundred people. You can taste their combined cocktails on the top floor pub.
La Cava Aragonesa
Family business located in the old town of Benidorm, in the area known as the Cava Area. It was one of the first businesses to settle in this area. It offers a distinct and unique style based on pinchos and tablas and a seven hundred wine list.
Marisquería Club Náutico Restaurant Benidorm
Flanked by Mal Pas and West beaches, in the heart of the Bay of Benidorm. Fresh seafood and daily fish from Calpe and Villajoyosa fish market. Grilled fish and seafood meals and a large variety of rice. It can be highlighted the rice with lobster and extensive wine list.
Jardín Mediterráneo Restaurant
Enjoy the best of Mediterranean and international cuisine prepared with the finest ingredients. The friendly service is also represented in the preparation of our dishes, tasty and delicious. Enjoy the best fresh fish, typical of our bay.
Ducado Restaurant
Located in one of the best and most tourist areas of Benidorm, just five minutes from Levante Beach, offers its customers a varied and tasty cuisine that combines the best of traditional Mediterranean cuisine with the best products. We are specialized in rice dishes, meats and fish.
Taíta Restaurant
Local and creative cuisine. We foment healthy meals. The establishment has three areas: the tapas corner, the terrace and the restaurant, where you can taste rices and other local dishes. Quiet and cozy atmosphere.
La Tapería Aurrera
Opened in late 2010, la Taperia is our latest venture. We offer tapas and pinchos (skewers) as small works of art, as well as meats and fish. We also have an extensive list of beers chosen among the most popular in the world, and of course, a varied selection of wines.
Erroak Restaurant
In Erroak restaurant you can taste traditional dishes as well as nouvelle cuisine, prepared with traditional products from the North of Spain, Mediterranean products and even some exotic products. Erroak offers a wide variety of dishes as well as menus for special events for up to 40 guests.
Excellent home-made pastries.
Pizzeria Va Bene
Excellent cuisine in a friendly atmosphere and cosy decoration. Situated next to Levante Beach Promenade.
Pizzeria Duomo
Our restaurant is ideal to enjoy the best Italian, French and Spanish cuisine. Salmon and prawn crepes, fresh pasta, duck magret, etc. are only a few examples of our dishes. Taste our home-made desserts such as crepes, tiramisu, fresh fruit sorbets, etc.