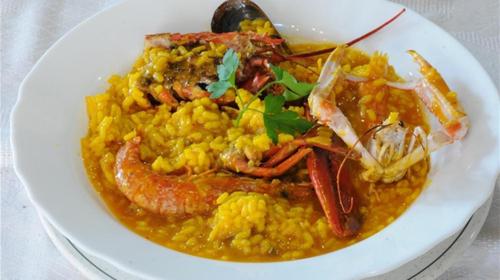 The richness and variety of the Benidorm cuisine has been achieved thanks to influences from ancestors and other civilizations that have inspired the local recipes.

So, international cuisine, culinary traditions inherited from the Arabs, the legacy of the marine merchants, not to mention the typical cuisine of the fishermen and from the interior of the region offer an extraordinary list of specialties.

The red mullet and pumpkin rice, traditional fish casserole, rice with anchovies and spinach, or the "pebrot" are some of its typical dishes, whilst for something sweet, filled pastries coca, the sweet potato cakes and the San Blas cake.
Arroceria Asador Casa Carmen
Family restaurant located on the seafront in Levante beach. Extensive rice menu. Fresh fish from the bay and grilled meats. Its most famous two people menu includes grilled seafood platter and a kilo of lamb chops, sangria or wine and dessert.
Café de Paris
One of the most important meeting points in Benidorm. Splendid terrace and a nice salon, and located in the most important street of the city. Has a pleasant environment.
Cafeteria Roman
Emblematic cafe located in Levante beach where you can enjoy your favorite drinks and an elegant and fun atmosphere with dancing and attractions all afternoon and evening.
Cafeteria Brasil
Located in a terrace in the centre of Benidorm. Noted for its service and quality. Near the beach and the shopping centre. Ideal place to socialize or take a break.
Restaurante Marisquería Club Náutico Benidorm
Flanked by Mal Pas and West beaches, in the heart of the Bay of Benidorm. Fresh seafood and daily fish from Calpe and Villajoyosa fish market. Grilled fish and seafood meals and a large variety of rice. It can be highlighted the rice with lobster and extensive wine list.
La Cava Aragonesa
Family business located in the old town of Benidorm, in the area known as the Cava Area. It was one of the first businesses to settle in this area. It offers a distinct and unique style based on pinchos and tablas and a seven hundred wine list.
La Falua
Roomy restaurant with neoclassical style. Avant-guarde cuisine where the product is fussed over. It can hold up to two hundred people. You can taste their combined cocktails on the top floor pub.
Restaurante Rias Baixas
Galician restaurant located in Levante Beach with excellent views of the sea and a wide terrace. They have a hundred guests dining living room and a 42 private dining room. Great variety of rice, seafood and fresh fish brought directly from the port.
Restaurante Cuina de Ponent
Family restaurant specialized in Mediterranean cuisine. Located next to Poniente Beach. Gastronomic offer based on rice, pasta, meats, salads and fresh fish. Own making desserts and great wine list.
Restaurante Esturion
Large heated local, specialized in celebration of events, baptisms, communions, bachelor, with a great deal. Live music and karaoke during dinner time.
Restaurante la Taberna del Ulia
Located in Benidorm cove in a residential area close to the sea, is one of the most representative restaurants. Enjoy the beautiful terrace with their specialities: meat, fish, seafood and tapas.