St Petersburg
The guide was updated:
Saint Petersburg is often described as the most Western city of Russia, as well as its cultural capital. History seeps from every wall and the colours, scale and grandeur of the buildings seem almost too much to take in. According to the UNESCO, Saint Petersburg is one of the most beautiful and architecturally sophisticated cities. Peter the Great's "window on Europe," which saw the revolution that changed the world, is regaining its imperial splendour. At its historic heart are grand palaces, amazing museums and spectacular churches. Music, art and literature are in its soul - and partying is a way of life.
Facts
Population:
5 million
Currency:
Russian ruble (RBL) 1 ruble = 100 kopeks
Search Accommodation:
Hotels »
Emergency numbers:
General 01
Medical 03
Tourist police +7 812 764 9787/278 3014
Newspapers:
Pravda, Izvestia
Vyedomosti
Vesti
St Petersburg Times
Neva News
Pulse
Spb Dnevnik
Smena
Website:
www.visit-petersburg.com
Opening hours:
Shops usually are open from 10 am till 9 or 10 pm. Many of the shops are open on Sundays. There are many shops and supermarkets opened 24hr. Banks open hours usually 10.00-18.00, Monday-Friday.
Tourist information:
City Tourist Information Bureau
Offices:
14/52, Sadovaya street
Tel: +7 812 310 2822
service@ispb.info
Metro Gostiny Dvor
Opening hours: weekdays 10.00-19.00; Saturdays 12.00-18.00.


37, Sadovaya street. Weekdays 9.00-19.00
Tel: +7 812 570-76-25
Metro Sennaya
Opening hours: weekdays 10.00-19.00; Saturdays 12.00-18.00

Information pavilions:
- Pulkovo 1 Airport (daily 10.00-19.00)
- Pulkovo 2 Airport (daily 10.00-19.00)
- Palace Square (daily 10.00-19.00)
- St.Isaac's Square (daily 10.00-19.00)
- Aleksandrovsky Park (daily 10.00-19.00)
- Vosstaniya Square (daily 10.00-19.00)
- Rastrelli Square (weekdays 8.30-16.00)
- Marine Facade (Seaport) (daily 10.00-19.00)
Read more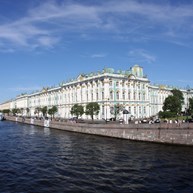 The State Hermitage Museum
The State Hermitage is a museum of art and culture, the world's greatest art displayed in dazzling splendour. Its collections, of which only a small part is on permanent display, comprise nearly 3 million items, including the largest collection of paintings in the world. It contains art from the Stone Age to the 20th century.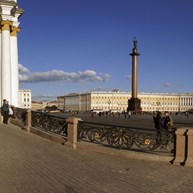 Palace Square
Palace Square is considered to be the city's main square and serves as an excellent example of how different architectural styles can be combined in a most elaborate and aesthetically pleasing way. It was the setting of many events of worldwide significance, including the Bloody Sunday 1905 and the October Revolution of 1917. The Palace Square is simply breathtaking.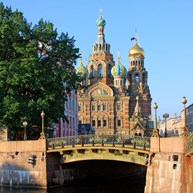 Church On Spilled Blood
The Church of the Savior on Spilled Blood is one of the main sights of St. Petersburg. Construction began in 1883 under Alexander III, as a memorial to his father, Alexander II. Work progressed slowly and was finally completed during the reign of Nicholas II in 1907. Bulbous domes, brilliant colours, powerful mosaics, a sight you can't miss.
Feel Saint Petersburg
Saint Petersburg is rightly known as one of the most beautiful cities in the world. Whenever you come to our magnificent city you'll vanish in the atmosphere of coziness, comfort and hospitality. We are sure you will definitely fall in love with St. Petersburg.
Russian Museum
The State Russian Museum (formerly the Russian Museum of His Imperial Majesty Alexander III) is the largest depository of Russian fine art in St Petersburg. Magnificent collections from early icons to contemporary art.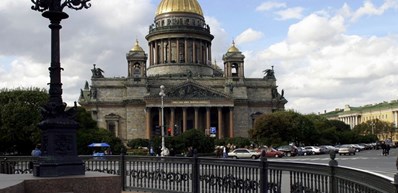 St Isaac's Cathedral
The dome of St. Isaac's Cathedral dominates the skyline of St. Petersburg and its gilded cupola can be seen glitter from all over the city. The cathedral's main dome rises 101.5 metres and is plated with pure gold.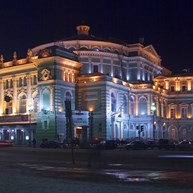 Mariinsky Theatre
The world's finest ballet and opera theatre. The Mariinsky Theatre is a historic theatre of opera and ballet and was opened in 1860. It became the preeminent music theatre of late 19th century Russia, where many of the stage masterpieces of Tchaikovsky, Mussorgsky, and Rimsky-Korsakov received their premieres. Book your tickets in advance and try to get the front row as it is very snug and the seats are not tiered. The interior is amazing!
Do & See
Yusupov Palace
By the river Moika River stands the beautiful yellow palace that was once home to the wealthy and respected Yusupov family. It was also the site of Grigori Rasputin's murder in 1916, a dark episodes in Russia's history. Let yourself be guided through this palace, the full story of the murder of Rasputin will unfold before you.