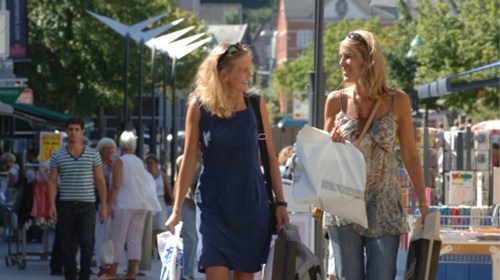 A mecca for shoppers

Take a stroll along pedestrian high streets with sun decked café squares, unique corner shops and basement art galleries. Or venture into large shopping centres with lots of space and all the international fashion stores. Whatever your preference, there's something for your taste in LEGOLAND Billund Resort's provincial towns.

Shopping in Vejen
Shopping in Vejen is a blend of unique specialty shops, well-known chain stores and good supermarkets stores. Vejen offers specialty shops with an assortment solely for children: clothing store with Sydjyllands largest selection of children's clothing brands, interior design shop with everything for the nursery and of course a toy store. There is also a great selection for the entire family at the other stores. Most shops in Vejen is in the centre where there are 850 free parking spaces. If you get a craving for coffee, hungry, or just craving something sweet, there are cosy cafes to sit at to eat and drink and there are also fun things in the city for kids to see.

Gallery Randi Platz
Gallery Randi Platz display and sell unique pottery in both porcelain and stoneware. The gallery is located between Broerup and Vejen overlooking the open countryside. Ceramic Products range from small delicate unique brooches of vases to larger sculptures - all with different expressions.

Gallery 46
At Gallery 46 you will find many interesting exhibitions throughout the year. During the summer months (April-Sept.) by the gallery exhibited work from permanent artists, as well as from the proprietor, George Steinicke, own works. It is possible to see the artist's workshop during the summer when Jørgen Steinicke works in the largest of the gallery space. It is typical that larger works are exhibited in the following season. During the summer, the garden is also open to the gallery guests.

Sports pass to Vejen
Our red bracelet as a sports card gets you and your family access to all our activities and team trainings. You are free to plan your own activity day - depending on what you want. You can choose to be together on some things or go separately and then meet for lunch. You may be out, you can be inside and you can try some sports that you are guaranteed not tried before.

Kolding Storcenter
With over 120 specialty shops, grocery store and Biocenter Kolding Storcenter represents Jutland's largest shopping center under one roof.

Experience the good atmosphere in the many shopping streets and the many events held year round.

Come by Kolding Shopping Center so you can experience it all with your own eyes. Welcome!

Bryggen
The Bryggen shopping centre in the heart of Vejle features many exciting store concepts. Two floors of attractive boutiques, cafes and a supermarket entice you with exciting products, seductive colours and tempting novelties. Bryggen offers no less than 700 parking spaces and two hours of free parking.

Opening hours are listed at www.bryggen.com.

Byparken, Vejle
In the centre of Vejle between the Musikteatret stage and the municipal administration offices, you'll find Vejle's town park - Byparken - the lungs of Vejle city. The park was designed as a combination of urban and natural settings. The stream surrounding the city runs through the park and several different trees, bushes, herbs and flowers embellish the park, which makes it green and living from early spring to late autumn. Hotel Scandic Jacob Gade with its ground floor café is next-door neighbour to the city park. From the café's terrace, you can enjoy a view over the magnificent city park and the large fountain that decorates the park. On the fringes of the park, you'll find a small playground. Throughout the summer, different cultural events take place in the park.

City Kolding
A charming city centre with a large variety of interesting speciality stores, chains and warehouses - loads of them situated in old architectonic surroundings. Here you will find 9 smaller shopping streets, green areas and a small creek which beautifully flows besides the city. The castle Koldinghus is an international and cultural light tower which encompass a museum and is overlooking the castle lake at one side and the city centre at the other side. You will also find known and smaller restaurants, cafés, night clubs and accommodations in the city centre.

Here you will also find a play park, indoor swimming pool, wellness and much more entertainment. If you need a bank, lawyer, estate agency, hair dressers, public agencies, fitness centres or alternative treatment you will not go in vain.
City has plenty of beautiful places and there are two weekly market days at Akseltorv on Tuesdays and Fridays from 8 a.m -3 p.m.

City Vejle
City Vejle offers you a choice of more than 300 celebrated high street chain stores and inspiring specialty boutiques located in the heart of town along one of Denmark's most charming pedestrian streets with a shopping centre at either end. Should you feel a little peckish or in need of refreshments then visit the downtown cafes and restaurants, which provide delicious cuisine and a well-deserved respite.

Shopping in Vejle is a unique experience with attractive stores, good service and cultural offerings that make a difference. Vejle Gift Vouchers are the perfect gift. Vouchers can be redeemed at most City Vejle member stores and can be purchased from the supermarkets Føtex and Kvickly.

Department stores, supermarkets, shopping centres and speciality boutiques have longer opening hours.
Grindsted - The Merchants' Town
Grindsted is a fairly young town - a small provincial town that sprang up on the heath when a station was built on the railway connecting east and west Jutland. Today, the town centre is a charming mix of classic Danish architecture from the 1920s and 30s and more modern buildings. Around Borgergade, Nørregade and Vestergade, you will find good shopping opportunities and café life.

Hopballe Mill
Hopballe Mill - Hopballe Mølle - is an idyllic and historic location in an area of great natural beauty between Grejsdal valley and Jelling. Our farm boutique is famed for Hopballe chicken. But you can also buy a range of local and international gourmet specialities, including beef, lamb, cold cut, cheese, wine, olives and pesto in addition to arts and craft. Hopballe Mill gives great emphasis to animal welfare, taste and quality. Hopballe Mill also supplies corporate gifts and gift items in general. And you don't have to stop by to purchase from our farm boutique. Many items are available from our e-shop where you also find delicious recipes. Hopballe Mill supplies chickens and other quality produce to destinations nationwide every week! Enjoy the atmosphere at the 600-year-old watermill and a deliciously prepared dish made with prime seasonal produce at our cosy restaurant or on our covered riverside terrace.
Biocenter Kolding
In Kolding Storcenter you will find the area's most beautiful and well-equipped cinema centre.

All our 6 rooms are built amphitheatre. This ensures good view of the large canvases from all seats. Our sound system is "second to none" and is composed solely of THX-approved components. This ensures the most of any film experience.

See our repertoire and book your tickets directly on www.biocitykolding.dk or by phone at 7013 1211.

Nicolai Art Cinema
Welcome to great experiences, both at the menu and on screen, at Nicolai
Cinema & Café – the art cinema in downtown Kolding. Here you
will find a cinema equipped with the best technique for viewing. It provides picture and sound for a great cinematic experience.
The multipurpose hall is used not only for films but also lectures, theatre and music.
The cafe will take care of you before, during and after the event - or just when you drop by. Here you can enjoy food and drink in pleasant surroundings.
Sculpturepark Billund
A walk through Sculpturepark Billund take about 30 minutes. The walking area is wide and firm, good for both walking, jogging, biking and wheelchairs, all year around. Bring lunch or coffee, there are benches in the park. Some of the sculptures invites to children to play on them, such as 'Tre legeskulpturer' and 'Stjernedyret' - close by Hotel Legoland. Another sculpture - the colourful mosaic pyramid - is crafted with the help from 70 children at Billund School, together with an artist. There are already 13 permanent sculptures in the park:Welcome to my World by Pontus KjerrmanHavekonen (The Garden-wife) by Lotte OlsenHorisont by Thorkild HoffmannArken (The arc) by Lis AndersenPentagonia by Gunhild Rudjord and Esben Lyngsaa Madsen3 legeskulpturer (3 playing sculptures) by Poul BækhøjDivan (The Diva) by Claus FiskerStjernedyret (The star-animal) by Harvey MartinEt møde (A Meeting) by Hans August AndersenStående figur (Standing figurine) by Keld Moseholm JørgensenIndgang (Entrance) by Niels Peter BruunGranit på søjler by Jens Chr. Jensen The pyramid sculpture Drømme, Leve, Lege (Dreaming, Living, Playing) by Thomas Kruse and 70 children from Billund School.