Linz Tourismus Johann Steininger
Linz
The guide was updated:
Linz – a cultural metropolis, and an oasis of green. Linz an der Donau is an innovative, contemporary city. It is a place where nature, culture and business come together to form a harmonious whole. The 2009 European Capital of Culture sports the slogan "Linz, verändert" ("Linz, changes"), and lives up to the slogan in full. Linz, a successful location for business, has emerged as an outstanding destination for culture, offering dynamism and a high quality of life. The capital city of Upper Austria is a showcase for theatre and music, but equally for contemporary art, history and science.
Facts
Population:
193.814
Currency:
Euro, €1 = 100 cents
Emergency numbers:
Emergency doctor +43 141, EU-wide emergency services number +43 112, Fire brigade +43 122, Police +43 133, Ambulance +43 144
Newspapers:
Der Standard
Kurier
Presse
Neues Volksblatt
Oberösterreichische Nachrichten
Kronen Zeitung
Österreich
Heute
Website:
www.linz.at/tourismus, www.oberoesterreich.at
Opening hours:
Normal opening hours are: Monday – Friday, 08:00 to 18:00. Saturday 09:00 to 18:00
Tourist information:
Tourist Information Linz
Address: Hauptplatz 1 (Old Town Hall)
Tel: +43 732 7070 2009, tourist.info@linz.at
October to April: Monday to Saturday 09:00-17:00, Sunday/Holidays 10:00-17:00
May to September: Monday to Saturday 09:00-19:00, Sunday/Holidays 10:00-19:00
Read more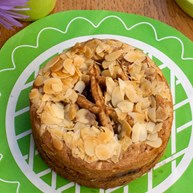 Linzer Torte
The sweet ambassador for Linz. The first recipe dates from 1653, making it the oldest cake recipe in the world.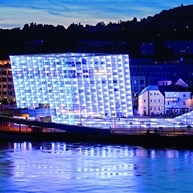 Ars Electronica Centre
An interactive world of adventure. This building, with its brightly-lit animation wall, is home to exciting exhibitions on digital art and technology.
Mariendom or New Cathedral
The biggest church in Austria. The Neo-Gothic church architecture is impressive particularly for its tower, which is only a few metres lower than the Stephansdom in Vienna.
LINZ.VERÄNDERT
Linz an der Donau ist eine innovative Stadt der Gegenwart. Hier verbinden sich Kultur, Architektur, Natur und Wirtschaft zu einem harmonischen Ganzen. Die Kulturhauptstadt Europas 2009 trägt den Slogan "Linz.verändert," und lebt diesen.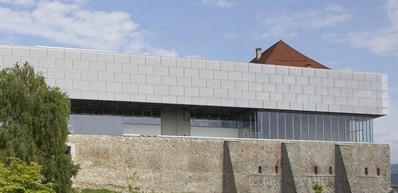 Schlossmuseum Linz & Old Town
The biggest universal museum in Austria. Permanent exhibitions on nature and engineering, supplemented by visiting exhibitions. The view from the terrace over the roofs of Linz is unforgettable.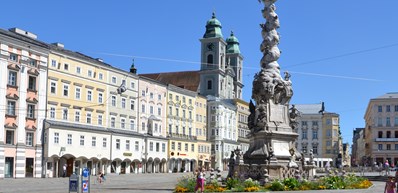 Hauptplatz Main Square & Landstraße
With its Baroque façades and the Holy Trinity column, Europe's largest urban square is the ideal starting point for a city stroll along Landstraße. Next to Vienna's Mariahilfer Straße, this is the most frequented shopping street in Austria.
Donau.verändert, Linz
Donau.verändert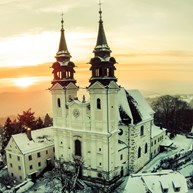 Pöstlingberg Adventure World
One of the emblems of the city. The striking Wallfahrtsbasilika, the pilgrimage basilica picturesquely enthroned above Linz, is easily reachable via Europe's steepest mountain railway. Linz's Zoo, the popular fairy-tale world of the Grottenbahn, as well as a magnificent view of Linz, await visitors to the mountain.